The first thing you should know about The New Pornographer's latest album is, it's the kind of record Carl Newman has never made before. One where he wouldn't change anything.
"Every song on this record, in the end, I thought 'This song is how it should be.' Whereas on other records there's always been a few songs where I think, 'Oh I wish I could change that.' But you let go. And on this record, I don't feel that way."
This sounds surprising coming from the foreman of a band that critics have called everything but the second coming of Jesus, but it's indicative of the way Newman approaches his work -- humble and to-the-point. The kind of figurehead who says things like, "I don't really consider myself a musician. Like, I've never been particularly good at any instrument. I'm not musically trained."
Brill Bruisers comes out on August 25th, following a four-year silence from the band that begs questions of where they have been. For Newman, the answer is at home. Since finishing the tour for 2010's Together, he's been in something of a self-imposed exile from The New Pornographers. During that time he celebrated the birth of his son and released a third solo album, Shut Down the Streets, -- in his words largely because, "I didn't want to get back into the rat race."
That grounding period was likely the perfect preparation for his return as the pin in The New Pornographers' compass; the solid center around which everything turns. And true to form once work on the record began, Newman and co-producing bandmate John Collins were really the only constants in the process.
"We did a bunch of it in Vancouver, we did a bunch of it at my home studio in Woodstock. We spent a few days chasing Neko around to get her vocals like in Vermont and Brooklyn and Austin...We rarely had everybody around at the same time, because that really serves no purpose. Unless you're doing it live, (and) that's just not how we recorded our record."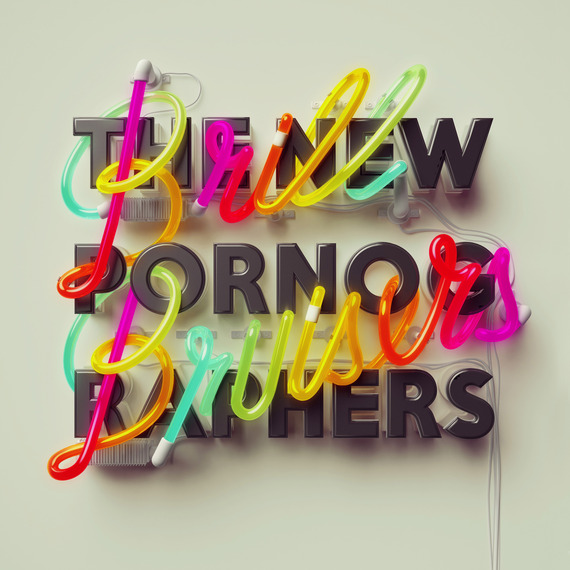 What came out of that process is an album as varied as its creation, and one that will likely divide fans with its lack of familiar elements. Gone is the slightly roving, across-the-room feel of other records; the subtle garage aesthetic that kept things feeling just unfinished enough to put yourself into. In place of that Brill Bruisers is an album that asks listeners to get on its level from the very beginning, exploding from nothing and streaming forth exuberant harmonies like a bottle of shaken champagne.
Brill Bruisers sounds broad and warm, wrapping from ear to ear and giving shine to 13 songs that experiment with new sounds and instruments -- some of which are jarringly unfamiliar even after several listens. It gives the album a peculiar energy, one matched by marked shifts in tonality from track to track, and songs that volley vocals between Newman and Case. Combined, these choices give Brill Bruisers a patchwork feel of similar but separate elements brought together, bucking the trend of single-sound albums and hinting at the way it was made.
"It was never finish one song and move onto next. The closest we had to that was, this song is sounding good, let's move on. It wouldn't be completely finished but we'd think, 'This is not that far from finished, so let's concentrate on the ones that are giving us trouble.' And some songs came together quickly, some took quite a while."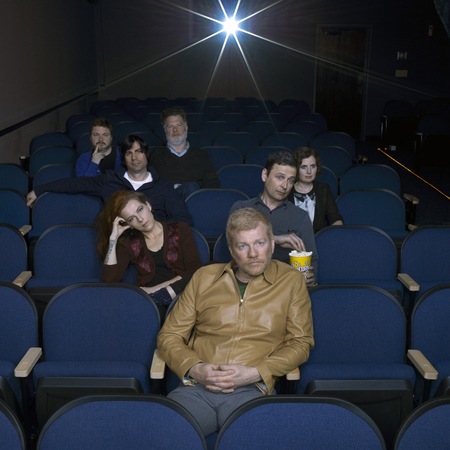 Through that process, several tracks on Brill Bruisers took unexpected turns. When the basis of the second track, "Champions of Red Wine", was laid down, Newman originally wanted to cut it from the record. "But then when we got into the studio and we added the arpeggiator and...a very predominant part of the song that's a men's choir that's chopped up and staccato." Then they made the even bigger decision to replace Newman's lead vocals with Case's harmonies.
"Those things came together and then that song suddenly...it suddenly had a very unique sound to it that I really loved. Those are the points on a record when I would feel the happiest. Where you just find the pixie dust that a song needs. When you find like the character of the song."
Lyrically, Brill Bruisers can swing from pointed to poignant, but always maintains room for the listener to interpret, for instance, whether "Marching Orders" is a cheery jab at a lover's quarrel, or an indictment of militaristic intervention and a question of resource use.
Unfinished parts of the death ray on the lawn
Let them rust, turn to dust
What the heart can't imagine we'll trust
They say we can make this stuff up
What else could we make
They say we can make this stuff up
What else could we make
On this track, like "Champions of Red Wine," Neko Case delivers some of the best moments of the album. Even better is Kathryn Calder's brief but addictive performance on "Another Drug Deal of the Heart," which, in spite of clocking in at a scant 1:30, could be one of the album's strongest moments.
That's not to say that Newman doesn't have his moments -- on "Wide Eyes" he lilts through the mid-tempo melody with captivating ease and matches the female vocals with low beautiful harmony in the chorus. Not to mention the earworm title track. Also of note is "War on the East Coast," on which Dan Bejar growls out the lyrics with a singular mixture of apathy and inner conflict; the audio equivalent of what plays out in the music video as he and a lip-syncing Newman touring a sparse apocalypse of rockets and rioting without batting an eye.
I wanted to go home with you
I wanted to stay true to the cause
but look what we're living in
It's war on the east coast it's war out west
oh I don't care I don't care
"I've always approached music from a very conceptual place. And even if I'm not doing anything that sounds particularly experimental, you know, somebody could dismiss me and say, 'all you do is write pop songs', but for me I just don't approach them like...I think..from a very standard way."
In the end, even with the new elements, on Brill Bruisers The New Pornographers manage to maintain their hypnotic rawness in spirit. It's the juggernaut heart that's kept the band together for a decade and a half, and what will make fans clamor for another album even as they argue over this one. If Newman has it his way, they may not have long to wait. It sounds like his exile is over.
"Now that I've done this record and I'm really into it, and I feel really proud of it, I'm eager to immediately do another one."
Brill Bruisers is out August 25th