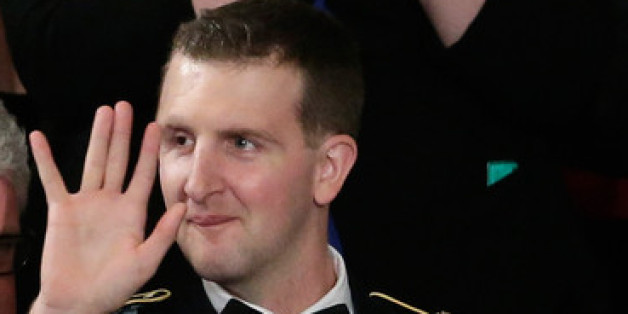 It began innocently enough. Back in the '90s I heard a story (which may not be entirely true) about a Special Olympics running event in Seattle when one contestant stumbled and the others went back to help the fellow and they all ended up crossing the finish line together.
Oh... that's nice I thought. Very nice.
And so my good news porn addiction began.
Stories of people doing very nice things for others have often provided a welcomed tack-on at the end of a normal negative news hour -- 'And here is a story about a puppy who was adopted after being discovered in a dumpster' -- and faith in humanity has quickly been restored and we can leave our audience on a good note.
The Internet, however, has offered the perfect meth amphetamine cocktail for 'good news' and I confess that I can't get enough.
While puppies and outcaste teens still get a lot of play, for me the most addictive of the good news stories involve returning soldiers from the wars in Iraq and Afghanistan.
You know the ones. A local news team arranges to surprise the kid on the basketball court, in the football field, or under the tree at Christmas with their returning mom or dad in uniform. The kid, surprised and heartbreakingly relieved, bursts into tears.
'I do not ever get tired of seeing those stories' intoned a TV announcer after one recent military reunion video. And I know exactly what he means, I never get tired of them either, I love them, we all do -- but to what effect?
What do we do with these stories of abused animals, bullied teens and returning solders after the orgasm of the televised love fest calms?
Louis C.K. recently had a very funny riff in his show Live From The Beacon Theater about how, upon seeing a soldier board the plane, he thought to himself that he might give his first class seat to him. In the end, he never does, but he self-mockingly proclaims: "I was proud of myself for having thought of it!"
This may get to the core of what is wrong with good news porn. In the end, good news porn can be like sexual porn in that there is no real commitment, engagement or sacrifice involved. Good news is presented for our enjoyment, and when we are done, we can move on without any thought for those whose lives we just consumed.
I thought of this last night while watching the State of the Union address. President Obama invited Sergeant First Class Cory Remsburg to sit next to the First Lady and proceeded to tell his story about how he had been injured in his 10th tour of duty and his long road to recovery.
Everybody in the audience, and all of us at home felt tears as we saw this fine young man, and considered the hardships he had gone through. We all cheered, honored and loved him in that moment -- as well we should.
But what about today? How does Sergeant Remsburg's story change the way we live our lives? Or the way we consider wars in the first place? What about our commitment to vets after they return from service? Had every member of that chamber clapping so loudly for Remsburg done everything they could to give him the health care and job training he needs to succeed in his life after service?
In his book Thank You For Your Service about returning veterans, Mr. Finkel talks about how post-traumatic stress disorder affects 20 to 30 percent of the two million Americans who have served in the wars in Iraq and Afghanistan. This is not to mention others who come back with physical wounds, and the families of those who never came back at all.
How can I help change the lives of these veterans in a meaningful way?
In my search for help I turned to HuffPost Good News and Impact Executive Editor Jessica Prois. She wrote me this very helpful email:
Good news porn doesn't just involve consumption -- it also involves sharing. So, Pastor Paul, you could look at it as evangelizing :). Reading these positive stories can be selfish but sharing stories of good works is spreading joy to others. And whether we aim to, and I hope we are, we are normalizing the narrative that people are truly good.


And once people are moved by these stories, they are moved to want to make a difference. We've seen readers set up payment plans for a working poor family who needs help, give money to a nonprofit through our donation widget or personally write to us about how to help a child with cancer. Tech enables both the spread of the story and the process of helping in new and effective ways.


Working against the good news porn concept, we also remember we are writing about real people and are careful not to exploit them. We aim to use a person to put a face on these issues, of course, because we are journalists. But we make choices -- for example, we don't do good news vet porn. We don't perpetuate the idea of quick fixes like puppies and fly fishing being a panacea for vet issues like mental health, employment and homelessness.


We can't measure that with every story, but whenever we can, we provide ways to help.
Hallelujah! Good news without the porn!
Here's one idea: Maybe we should self impose a tax on good news porn. For every 'soldier return story' we watch, we should give to an organization that helps returning veterans and make sure our politicians are advocating for fully funding and improving care for veterans. For every bullied teen or differently abled youngster 'included in the football team story,' we should volunteer at the local Special Olympics or go to the school board to advocate for better protection for bullied students. For every puppy story... well, you get the idea.
Good news is actually really good; and faith in humanity has always got to be reinforced, but it should inspire us to action in our own lives, not just assume that watching them is somehow an accomplishment in itself.