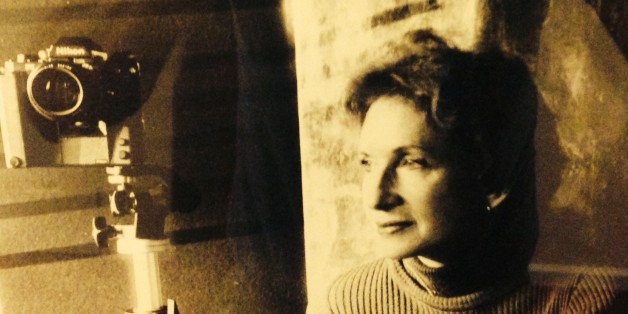 My mother died at 9:35 on July 4th, as I stroked her cheek with my arms around her, and repeated the litany of love that we had been reciting over the last 36 hours. "I love you, Mom" as her breathing came at longer and longer intervals. "Lorraine loves you, Carla loves you, Rick loves you, Walter loves you," I intoned, "Nick, John, Elizabeth, Genevieve, Barbara, Flynn, Brad, we all love you Mom."
Filled with incredulity and awe that I was witnessing my mother's final moments of life, I said an approximation of the Anglican Prayer for the Dying, crying and holding the woman who had given me life 50 years earlier. Then she didn't take another breath.
And so life after Marylu's death began -- for us, and for her.
Shortly after Mom died, I went to pick up my father who had been resting at his "grandpa suite" built for him in my sister Lorraine's house located near the assisted living home where my mother has lived for the last four years with Alzheimer's. On the way to Marylu's deathbed, my father explained how he had really lost his wife years before, and that her death was an opportunity to "reinvigorate his memories of their 58 years of married life together."
I knew what he meant. Over the last years, my perception of Mom had subtly changed from the stunning, powerful woman I had known throughout most of my life, to someone who had lost ability to think and act for herself. Already, minutes after her death, my own memories of Marylu were reinvigorated.
My mother was born Marylu de Watteville and was proud to be a member of one of Switzerland's founding families with its crest of three angel wings. Raised in Oklahoma, she was building a career in advertising when she met my dad Walter and settled in Madison, Wisconsin where they raised their four children, of whom I was the youngest. While my father taught at the law school, my mother dove into local politics and was an activist in civil and women's rights with leadership roles in the NAACP, the Mayors Council on Human Rights, and co-founding the Wisconsin Citizens For Family Planning. Her circle of friends were women movers and shakers and I am a feminist today because of the example of my mother, who didn't have to teach me that women were equal to men -- she showed me.
Marylu was a celebrated artist working in ceramics and metal before focusing on photography. She received an MFA from the University of Wisconsin, and her work was shown at galleries, museums and libraries around the country including portraits of women such as Supreme Court Justice Sandra Day O'Connor and actress Julie Harris as well as revealing self-portraits. I once asked my mom which were her favorite photographs. She replied: Oh, anything with people." My sister Carla was mom's favorite subject, and Marylu's portraits of her exposed simultaneously Carla's inner fragility and her power, demanding respect from the viewer.
My mother valued travel and adventure and came up with the most extraordinary gift of a backpacking trip to Europe for the four children. My brother Rick and I traveled together and my sisters traveled together, eventually meeting up in Pamplona, Spain for the Running of the Bulls. She was always trying to expand our world. During our childhood when we were living in the Southwest, my mother would take us to Indian reservations where we observed the spiritual connections between people, art and ritual. Once we attended a festival that culminated with acres of glowing embers being pushed off a cliff to create the vision of a waterfall of fire.
Much of my appreciation of art and culture came from my mother's instruction and example. I remember watching my mother in front of a solitary statue displayed in the center of a mausoleum in Berlin. Most of us were taking routine photographs of the piece of carved stone in front of us. Marylu had instead trained her camera on the shaft of light coming through the ceiling that illuminated the statue giving it its vivid power.
I have to mention Marylu's incredible sense of humor. Once she insisted my sisters go and clean out a chest of drawers in an upstairs room, and waited downstairs for the screams when they came across the dead mouse she had earlier discovered there. When my now husband Brad first came to meet my parents, my mother remained out of sight until we had gotten to the breakfast table in desperate need of our morning coffee. Then she leapt out from the pantry with a huge rubber monster mask on her head. Marylu certainly made a lasting impression on people.
Physically active all her life, my mother was a superb tennis player and golfer and an avid sailor. She was vibrant and full of life when she was struck with the baffling disease that would eventually kill her. However, while I understand what my father was saying about losing his wife four years ago, I cannot say that the time has been wasted. There was a painful grace that emerged from the illness that may have been impossible without it.
As a powerful and ambitious woman herself, my mother was at times unsympathetic and harsh with criticism of her children (although she was also immensely proud of all of us). The disease made her vulnerable; and opened up the possibility of a new kind of relationship. My sister Lorraine was the heroine of our family who provided extraordinary love and care for Marylu almost every day for the last four years. I know she doesn't regret it. Marylu's illness and dependence, however horrific, helped to melt the edges off our jagged memories. By the time of her death, the love we felt for our mother was pure and unqualified.
The life of Marylu we remember after her death includes both the powerful and vulnerable times, and we feel deeply grateful for all of it.
But what of her life now?
The last 48 hours of her life were an intensely spiritual time. While I am ultimately agnostic about what exactly happens when we die, my mother's death had a sense of the Holy hovering around it. Marylu was a seeker all her life. She was a Presbyterian and raised all of us in the church as well. However, her spiritual quest took her beyond the walls of the sanctuary to shamans in the jungles of Peru, the Sufi shrines in Turkey, ashrams in India and Buddhist temples in Tibet.
As her body shut down, her eyes would at times be alert, registering on the people around her bed singing "Amazing Grace," "Somewhere Over the Rainbow," and even the Doxology from the Christian worship service. Throughout those hours when we joked with her, cried over her, and told her how much we loved her, we felt a beautiful spirit in the room even in the midst of our sorrow. When I was holding her in those last moments as her breaths slowed, her eyes, which had half shut and glazed, suddenly opened, focused on me and then beyond me.
I don't know where you have gone, Mom, but we celebrate you and we are so grateful for your life with us -- and for your life after life.