Many years ago, on my first backpack visit to the United States, a stewardess on the plane surprised me with a green form I needed to fill out. There were odd questions on that form. Apparently someone in Washington needed to know if I had an STD, if I used drugs or had been involved in Nazi crimes between 1933 and 1945. Okay, I live in Amsterdam, but that doesn't automatically make me drug user, does it? And certainly not a Nazi criminal.

The form made me laugh and angry at the same time. Who's business was this? Suppose I was a German war criminal, rather than a young Dutch journalist, would I mark the "yes" field? And what on earth were they doing with all these forms? These were pre-computer days, so there had to be a huge building somewhere to file these forms. That concept was the part that made me laugh.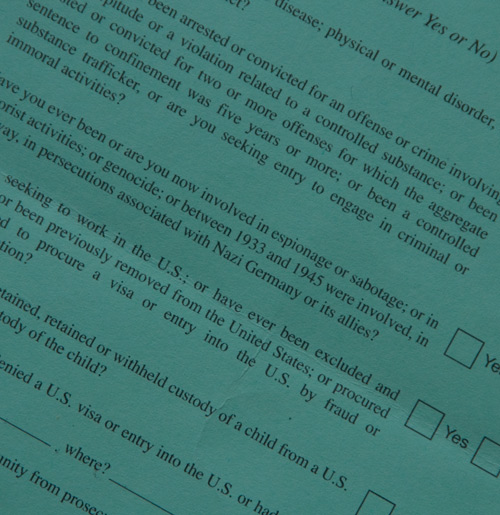 Over the years I filled this form out again, and again, and again. And it never stopped making me angry. It was a pointless, offensive hurdle to take, every time I visited this country that I like so much. Even last month, 65 years after the end of World War II, I had to answer that weird question -- if I had been involved in Nazi crimes between 1933 and 1945. Hello!! Anybody out there? I wasn't even born in 1945... And no, I do not have an STD and do not plan to engage in acts of "moral turpitude" (whatever that may be) while in the USA.
There was one change last year. Suddenly I had to fill out the same form twice, not only on the plane, but also online before I left. It's called ESTA, the Electronic System for Travel Authorization. The exact same form with the same questions, just in case some nonagenarian Nazi happens to be online.
I personally know people in Europe who do not go on vacation to the USA because they don't want to go through this procedure, which nowadays even involves fingerprinting and having a mugshot taken on arrival. I know of no other country in the world with a system like this.
"Who cares?" You may think. "You don't have to come." Sure, but in fact Washington does care. Tourism is a multi-billion-dollar industry and tourism, particularly from Europe, has not developed as strongly as the American economy could use. The data is disappointing, even for 2008, when the exchange rate between the euro and the dollar was such that a transatlantic shopping weekend was a bargain.
So earlier this year the Obama administration signed the Travel Promotion Act into law, to beef up international tourism, particularly from Europe. And the good news is that sometime this summer the green forms will disappear from the airplanes. However, that is only because the online version works fine. That stays. And it's going to cost money. Every foreign visitor will be charged 10 dollars to fill out the online form. I'm not joking. This is done to finance the newly created Office of Travel Promotion. Makes sense, doesn't it? Promote tourism by charging the tourists for the promotion. Once they get through JFK you may even sell them Brooklyn Bridge.
If you read this far and still don't believe me, check this out: it is by far the funniest rendition of the exact text on the green I-94W form I know, as presented by Frank Zappa, back in 1992. Welcome to the United States.