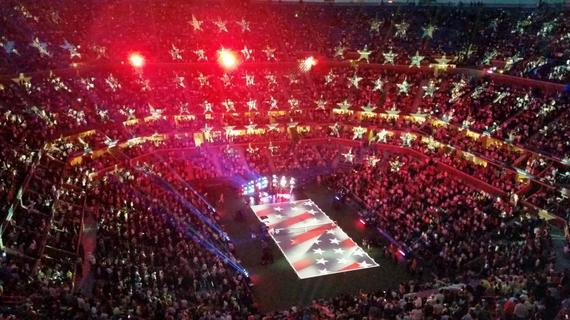 After I wrote on HuffPost about a volleying video I made in my wife Briggs's memory, there were 1,100 new views of it in a couple of days: Briggs on the Bench, a Racquet in My Hand. A former high-ranked pro has said to count him as a fan of it, and I got a YouTube message from another generous player, caps his, "I'M GOOD and I COULDN'T DO THIS THAT WELL." Briggs would have been pleased. I taught her to play and she'd always wanted me to make a video like it. Her tennis story is in the video description along with the link to a petition in her memory to begin a new era in cancer.
Seven tennis greats, including five U.S. Open champions, have added their names to the petition. Twenty stars of film and media and six doctors have also signed. They're all mentioned in the petition. To get the number of signatures on it to build to the point that we can begin truly changing the face of cancer, I want to start a volleying-video challenge here in this post while the U.S. Open is still in full swing. In the vein of the ALS ice-bucket challenge, with this #TennisAgainstCancer, I'm asking you to collectively nominate which Tour pros or tennis-playing celebrities you'd most like to be first to make volleying videos.
The same as with all those ice buckets, they'd then nominate three pros or celebrities to make similar volleying videos in a 48-hour turnaround (it might be better to make this 72)... well, maybe not so similar. Briggs loved excitement, and maybe some of these volleying videos can become classic viewing, from favorite fast-paced Tour pros to tennis legends, to serious celebrity players, to such comedian tennis aficionados as Ellen DeGeneres.
So who do you think it should be?