"I think it would be nice if we could plan a few things. I'd feel better if we had some kind of framework for the trip."
This is part of an email I receive from my cousin, Stephanie, a week before our departure for Buenos Aires.
The original plan was a carpe diem, we're-young-so-why-shouldn't-we kind of trip. We'd each bring a single friend, we said, and if it turned out to be a familial blind date, all the better. But then neither of us could find a friend, which meant that during our five days in Argentina, Stephanie and I became versed in the various ways one can say in Spanish, "No, actually, we're cousins."
Once our Roomorama host, Ramon, had us settled in our apartment in the Recoleta (translation: where rich people live) we set about learning how difficult traveling together can be, especially when there isn't going to be make-up sex at the end of the day.
***
On our first night in South America, we rode the Subte to Plaza Italia in Palermo, the district the Internet had told us was Buenos Aires's hippest.
There, while balancing smartphones and paper maps on the corner of Charcas and Fray Justo Santamaria de Oro searching for the restaurant one TripAdvisor user called "one of the most memorable and phenomenal meals of our lives" a man in a chef's habit asked if we needed help. We told him we were looking for Las Pizarras Bistro; he said it was behind us. We said thanks then and thanks again later, when he came out from the kitchen at that same restaurant.
My lamb was among the best I've ever had. When I clapped our new friend Rodrigo Castilla on the back and told him how good a cook he is, I asked him where we should spend the rest of our night. A bar called 878, he said. It was just down the road.
We were happy to oblige.
Until we weren't.
On the way to 878, we stopped into a corner bar that was spilling people onto the street, and then, after meeting a group of ex-pats from all over the world, we never left, not really; I mean, we went somewhere else: a bar called Congo/Avalon, and then an unnamed street restaurant where we ate empanadas while dreading the impending sunrise and laughed with the new friends we'd made until it was time to find a taxi back to Recoleta.
We happened upon a river, and we paddled it till the sun came up.
And that is Exhibit A: on behalf of Chaos.
***
About Buenos Aires, Stephanie and I learned that the people are really nice if you look lost, that Halloween is only just now arriving in the city and that the Spanish you learn by living for two years in Spain is useless there, because everyone is making their double-Ls into "Sh"s and you will have to ask people to repeat themselves and it will get old quickly.
We also learned that the soccer hooligans are more likely to smash your car if that car is a nice one and less likely to smash it if you look like you're in the 99%.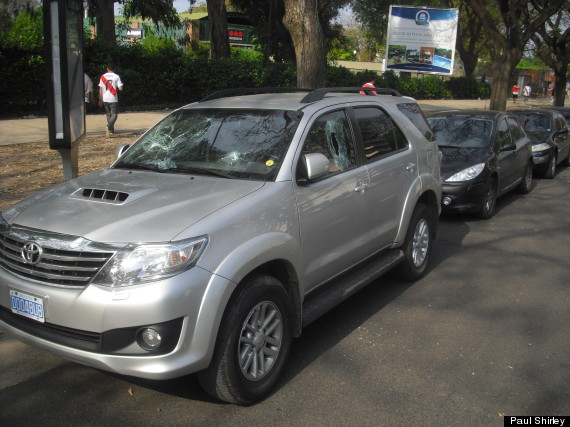 And we learned about tango. Or watched it, anyway.
The concept of tango "shows" had me nonplussed. Not because I don't appreciate a good Latin dance, but because, while I don't know that much about tango, it would seem that the point of the dance is to dance, not to watch others dancing. But I could tell that for Stephanie a tango show was a Tripmaker; she'd heard that anyone visiting Buenos Aires would be remiss if he or she did not see a show. So I braved Ramon's wrath and used the house phone to make a reservation at Tango Porteno. The transaction was quick. The woman who answered the phone asked what night I wanted and what my credit card number was; I mumbled something about "tonight" and listed off my four groups of four.
And so, at the appointed hour, and after two caipirinhas each at Gran Bar, a charmingly price-gouging tourist joint decorated in late-'90s New York steel and granite, Stephanie and I were escorted to a check-in counter at the rear of Tango Porteno's foyer, where I was asked, again, for my credit card; evidently I'd only paid for one ticket earlier in the day. Then we were taken to our seats, where a curt waiter told us to pick from the establishment's list of subpar wine sold at par wine prices. When he returned with the wine we'd picked, he held also the check. Which I thought odd as the show hadn't even started.
To my eyes, that show was like being forced to read Hamlet in high school: I knew it was important, and there were parts that were fun, but mostly I was bored.
An hour and a half later, it was over, and I turned to Stephanie, expecting that she would be ready with the snide remarks that our family does so well, because it was at least partially ludicrous how anxious everyone had been to take our money and it was wholly ludicrous that we'd paid $50 each for the same experience that tens of thousands of other tourists had already had.
But Stephanie, well, Stephanie was beaming.
"I thought that was amazing!" she said.
I thought Stephanie was wrong about the tango show. I thought it was a money-grab, and not a very good one.
So I said so.
Her face darkened.
"Just because it wasn't something you liked doesn't mean I should like it any less," she said.
Ice water doused the inner lining of my stomach. Because about this, Stephanie was right.
My ideal way to travel was one way; Stephanie's was another. And just because we disagreed didn't make either one of us correct.
***
Shelves are cluttered with books about how men and women are different: Venus and Mars and all that. But the difference between the sexes can be illustrated using that age-old conflict: whether or not to ask for directions. The conventional wisdom states that men don't ask for directions either because we are stubborn and boorish (not untrue) or because we enjoy the prospect of discovering the way.
This explanation is close to the truth, but it doesn't go far enough. Because in order to become unlost, we must first get lost. Getting lost is an integral part of the male experience -- the part that leads to the next part: the finding.
Stephanie had a fine enough time the first night we spent traipsing through the Palermo, but she was uneasy most of the way. Later in our stay, what I saw as a second-rate, rote performance put on for a tourist crowd, Stephanie saw as a manageable experience that could be classified, processed, explained.
Impasse? Obstacle? Go our separate ways -- me haunting bars and cafes, Stephanie sitting proudly on tour buses -- and never the two shall meet?
Not necessarily.
***
On our only Sunday in Buenos Aires, Stephanie and I subwayed back to the Palermo for brunch at the El Fierro Hotel, on which Rodrigo had given us the hard sell. And rightfully so: it was perfect. Nine or 10 courses (I lost track sometime around the shrimp), all presented like tiny works of art, each one delicious.
When the meal was done, I cautiously checked for Stephanie's reaction. But my caution was unnecessary; of course she'd loved it. It had been an experience that was manageable and explicable: she'd be able to tell people about each of the courses; their regularity was appealing.
As for me, I was satisfied that we'd found something most tourists wouldn't know about. You can find the Fierro Hotel if you look hard enough, but you aren't going to stumble into the place, especially not on a Sunday morning.
Order, meet chaos. Method, meet madness.
In the form of the great unifier, the common kismet, the thing without which none of us can survive:
Some damned fine Argentinian food.
PHOTO GALLERY
A Visit to Buenos Aires