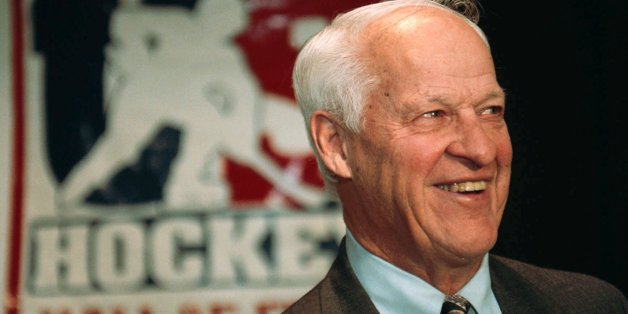 Along with the rest of the hockey world and the countless people whose lives Gordie Howe has touched either directly or indirectly, my thoughts and prayers go out to Mr. Hockey and the entire First Family of Hockey after Gordie suffered a serious stroke on Sunday morning.
While Gordie's situation is grave, he was at least able on Tuesday to speak his first words since the stroke. He also was able to have a FaceTime session with his grandson and great-granddaughter. Most important, while resting at daughter Cathy's house in Texas, he is surrounded by the people who love him the most. I must add, though, that everyone loves Gordie. It's impossible not to!
Gordie and his kids are the epitome of class and integrity. When folks talk about hockey people being fundamentally humble and kind at heart away from the rink and ultra-competitive on the ice, Gordie has always been the ultimate role model and ambassador for our sport.
As a father myself, the biggest tribute I can pay to Gordie Howe is this: One the ice, he was the Babe Ruth of hockey but he is an even better man off the ice as a true family man. He and his late wife, Colleen, raised their four children the right way and Gordie was a tremendous father and grandfather.
In terms of his play on the ice, even apart from his nearly superhuman longevity, Gordie was the prototype for playing a hard-nosed physical game that also incorporated a tremendous level of skill. As genuinely nice and laid back as he is off-the-ice, that's how mean and competitive he was as a player.
In the old-time hockey realm, there was something called the "Gordie Howe Tattoo." If a defender unwisely chopped down at the attacker's stick, they'd step into Gordie's tattoo parlor, where a quick elbow or swat with the hand was guaranteed to hurt and leave a mark.
As Mr. Hockey himself used to say, he played Biblical Hockey: It was better to give than to receive.
I experienced some of Gordie's gift-giving generosity when I played against him in the WHA. He was nearing the end of his brilliant career and I was an opposing rookie in awe of one of the game's greatest legends. We were standing in the faceoff circle, lined up against one another.
"Mr. Howe," I said. "I just want you to know how much I've always admired you. I even named my dog after you."
He glanced at me. As the puck dropped, I was on the receiving end of an elbow that nearly re-arranged my face.
Next time I saw him, I said, "I'm gonna go home and strangle that dog!"
Gordie grinned. "Welcome to the pros, kid."
********
Paul Stewart holds the distinction of being the first U.S.-born citizen to make it to the NHL as both a player and referee. On March 15, 2003, he became the first American-born referee to officiate in 1,000 NHL games.
Today, Stewart is an officiating and league discipline consultant for the Kontinental Hockey League (KHL) and serves as director of hockey officiating for the ECAC.
The longtime referee heads Officiating by Stewart, a consulting, training and evaluation service for officials. Stewart also maintains a busy schedule as a public speaker, fund raiser and master-of-ceremonies for a host of private, corporate and public events. As a non-hockey venture, he is the owner of Lest We Forget.
Stewart's writings can also be found on HockeyBuzz.com every Monday, Tuesday, Thursday and Friday. He is currently working with a co-author in writing an autobiography.