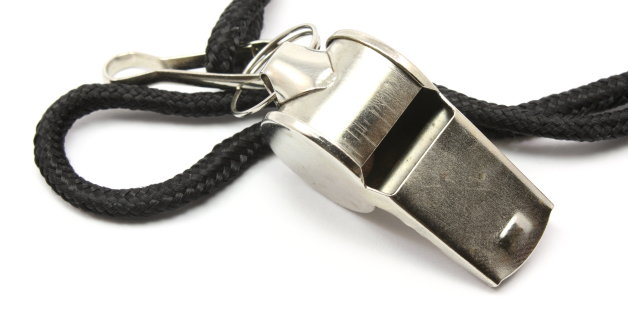 Back in 1971, noted sports fan Jack Nicholson made his directorial debut with a basketball-themed movie called Drive, He Said. During my active refereeing career in the NHL and now as a supervisor and instructor of on-ice officials, I have always had simple philosophy on positional refereeing: Skate where you need to skate to see what you need to see.
Shouldn't be a novel concept, right? Should just be common sense, right? Alas, Thomas Paine would spin in his grave over some of the coaching methods for officials that have been instituted both in the NHL and in European and international hockey. In the name of minimizing the chance of the referee getting caught up in the play, officials are instructed to do things that hinder themselves from getting the best possible look at the play.
That is especially true in plays around the net. There's an old saying in hockey that games are won in the corners but the money is at the net. Well, the same thing is true for referees. In order to make proper calls as to whether pucks are covered or loose in scrambles around the net, sometimes the referee needs to move to a better vantage point.
As a referee, I always sought out open ice with a good view of the play. I liked the areas down low where I could angle myself to simultaneously see, for instance, the front of the net on the left side and the point man on the right side.
I remember one time I worked a game in Los Angeles where I kept going to the non-congested areas with the best angle of the slot and net. Inevitably, I bumped into Wayne Gretzky as he arrived at the same spot.
"Hey, Wayne, are you trying to use me to run picks for you?" I asked when it happened for a third time.
"No, Stewy, you're in MY open ice," he said.
So, theoretically, I do sort of understand why the NHL supervisors don't want refs behind the net. I get that they want maximum operating room for players to make plays. But that's where hockey sense should matter. Officials need to have it as well as players.
In fact, I'd dare say that there aren't many Gretzkys, Mario Lemieuxs, Peter Forsbergs or Sidney Crosbys out there who are creative enough to constantly twist and turn to find those lanes and vantage points behind the net and away from the traffic. Most of the time, a ref can find an open area where he can see the net front WITHOUT affecting the play.
You know what ends up happening all too often? Referees end up too deep in the corners and calls get missed around the net and good goals get waved off because the sightline gets lost and there's no choice but to blow play dead. As a matter of fact, that exact thing happened in last season's Stanley Cup Finals with my friend Wes McCauley, who is one of the best referees in the NHL today.
When referees hustle to get to the net and get the best possible vantage point, I applaud it. Unfortunately, the current day supervisors at the NHL level and many places in Europe criticize their referees for doing it and coach them not to do it. As a result, they too often set their refs up to fail and to make wrong calls because they are actually being instructed to stay in areas where they can lose sight of the puck.
Dumb, dumb, dumb.
By the way, returning to the inspiration for the title of this blog, I once had a chance meeting with Jack Nicholson. I was the standby referee for a playoff game at the LA Forum during the days of the one-ref, two-linesman system. Near one of the premium boxes, I was introduced to Nicholson and we struck up a short conversation.
At the end of our talk, I said to him, "Hey, how would you like to come down to the officials' dressing room? You can meet all the guys."
Nicholson smirked his trademark smirk.
"Now, why I would want to do that?" he asked in his most Jokeresque tone of voice.
I had to laugh. Such is the life of an official. Maybe I should have introduced myself to Rodney Dangerfield instead.
******
Paul Stewart holds the distinction of being the first U.S.-born citizen to make it to the NHL as both a player and referee. On March 15, 2003, he became the first American-born referee to officiate in 1,000 NHL games.
Today, Stewart is an officiating and league discipline consultant for the Kontinental Hockey League (KHL) and serves as director of hockey officiating for the Eastern College Athletic Conference (ECAC).
The longtime referee heads Officiating by Stewart, a consulting, training and evaluation service for officials. Stewart also maintains a busy schedule as a public speaker, fund raiser and master-of-ceremonies for a host of private, corporate and public events. As a non-hockey venture, he is the owner of Lest We Forget.
Stewart's writings can also be found on HockeyBuzz.com every Monday, Tuesday, Thursday and Friday. He is currently working with a co-author in writing an autobiography.