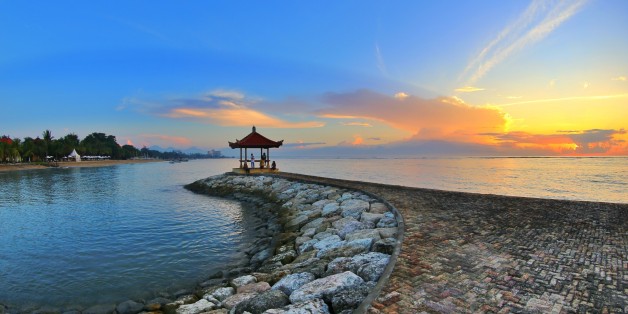 Earlier this week, I was sitting at a hockey game in Matyshi, a suburb of Moscow. I was there to watch three young officials work a junior league game between Matyshi Atlant and Habaresk Tigers. The game was going OK from an officiating standpoint.
I had just settled in to watch the start of the third period when my phone rang. It was my wife, Lori.
"Are you sitting down?" she asked. "I have some bad news. Terry Johnson died over the weekend."
Terry Johnson -- or Uncle Buck to my kids -- was my best friend. There is a Chinese proverb that goes, "Friendship multiplies the joy and divides the sorrow." To make it a more hockey-oriented analogy, a true friend is a teammate who can never be traded.
That was Terry. A native of Kitchener, Ontario, he became this Boston boy's closest confidant. We were inseparable, spending thousands of hours together. I never had a shred of doubt in my mind whether Terry would stick by me in bad times, because he always did. Meanwhile, we shared countless good times and laughs together. He was closer to me than a brother; we were brothers by choice.
I often joke about how no one roots for the referee. That's not entirely true. Terry was always on my side, even when no one else seemed to be.
Terry drove me around when I was in the AHL. In the NHL, he was always there when I refereed games in Detroit, Toronto, Buffalo and Ottawa. We always made it to arena for the puck drop, although a few times not until the national anthem singer was hitting his or her final notes. I can recall a few Buffalo snowstorms and accidents on the Peace Bridge that made us cut my arrival to the arena dangerously close. Terry stayed calm.
We shared countless meals together over the years, and we had our favorite places that became regular stops for dinner. There was the Swiss Chalet on the way to Buffalo. There was Moose Winooski's in Kitchener. We both loved the The Fish House, up and down stream in Toronto for oysters and Arctic Char.
Terry was my frequent guest golf partner at Hyannisport. He was a constant companion/helper at The Bill Stewart Classic.
We roomed together at hotels, too. The guy snored like a chainsaw.
On a more serious note, Terry was always there for me when I battled stage three colon cancer in the late 1990s. I was a friend in need when I left the hospital in 1998. He came and stayed a month, helping me as I recovered from surgery. He helped Lori as she moved our infant son and all of our stuff to Cape Cod while our house in Walpole was being built.
Terry, a "kitchenologist" from Acorn Kitchen's in Kitchener, ONT, designed our kitchen, supplied all the cabinets, designed the "Stew Cat Bar" for the basement. This was a house I never figured I'd get to live in, but here I am.
I was so sick and Terry helped me through. Ten million thank yous would never suffice, and yet Terry never asked for a single one. He knew I'd do the same for him, and that was good enough in his mind.
"Are you still there, Paul?" Lori asked me after about 20 seconds of silence on the phone line.
"Yes," I said.
"Are you OK?" she asked.
"I don't know," I said. "I am kinda in shock."
Terry and I talked just a few weeks ago for over an hour. He was going to come down to see us, maybe at Christmas. Little did I know it would be the last time I would speak to him. It reminded me again -- as if I needed any such reminder -- that we need to cherish every day. Never take tomorrow for granted and make the most out of today.
This has been a bad week. Robin Williams, Danny Murphy... and now my dear friend from Kitchener. When the grief lessens, I will look back at all the times I shared with Terry. I will recall all the laughs and smiles and the peace of mind that comes from knowing there's someone who always had my back no matter what the circumstance.
Thank you, Uncle Buck. Thank you for being you.
********
Paul Stewart holds the distinction of being the first U.S.-born citizen to make it to the NHL as both a player and referee. On March 15, 2003, he became the first American-born referee to officiate in 1,000 NHL games.
Today, Stewart is an officiating and league discipline consultant for the Kontinental Hockey League (KHL) and serves as director of hockey officiating for the Eastern College Athletic Conference (ECAC).
The longtime referee heads Officiating by Stewart, a consulting, training and evaluation service for officials. Stewart also maintains a busy schedule as a public speaker, fund raiser and master-of-ceremonies for a host of private, corporate and public events. As a non-hockey venture, he is the owner of Lest We Forget.
Stewart's writings can also be found on HockeyBuzz.com every Monday, Tuesday, Thursday and Friday. He is currently working with a co-author in writing an autobiography.