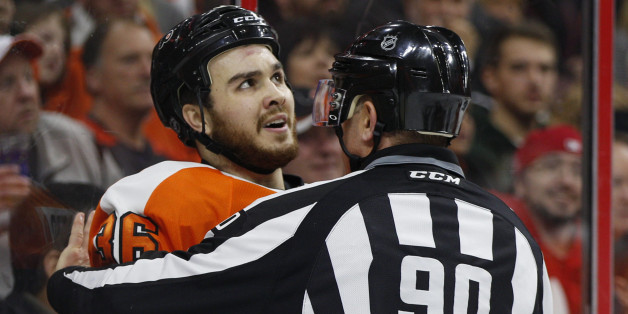 On Thursday night in Philadelphia, Flyers forward Zac Rinaldo threw a despicable hit on Pittsburgh Penguins defenseman Kris Letang. The victim's back was turned to Rinaldo the entire time and Rinaldo jumped into the hit. Letang was injured on the play, missing the rest of the game against Philly as well as Wednesday's game against Chicago. He is out indefinitely as the NHL enters the All-Star break.
Come Monday, the NHL will hand down a suspension to Rinaldo, who apparently opted for phone hearing instead of an in-person hearing. That means a suspension of at least five games is likely. So what? Nothing will change.
Rinaldo knows the drill. This will be his third NHL suspension and fourth NHL supplementary discipline action (he was also fined in one instance). Before arriving in the NHL, he had four AHL suspensions in a single season. Prior to that, he had five significant suspensions in the Ontario Hockey League.
Rinaldo is just 24 years old, by the way. That's quite a rap sheet.
The player, who basically bragged after the game about how the incident was a positive game-changer for his team, is as reckless as someone can possibly be short of being a sociopath. He has no respect for anyone's safety, for putting his own team shorthand and, as such, for the game itself. He also doesn't care about suspensions and makes no pretense about changing his style one iota.
Why should he care? He has a new multi-year contract extension. He'll just serve his time and go right back out there until his next suspension.
To tell you the truth, I am past the point of blaming the players alone. I wonder who the hell is coaching these players and why the coaches have no accountability. Listen, Craig Berube has been around the block a lot of times. He doesn't have to order Rinaldo to run guys. Chief knows full well what Zac Rinaldo is all about as a player. By continuing to dress him for games and send him out on the ice, he is basically saying "have at 'em."
Let me make one thing clear: This is just the latest example. I'm not singling out Rinaldo or Berube. This incident is just symptomatic of a much bigger problem that pollutes our game.
Far too many coaches send out mixed messages. On the one hand, they all cry out for the leagues and on-ice officials to do things to make the game safer for players. They are quick to talk about players showing disrespect for the game and for fellow players when one of their own guys gets injured or narrowly escapes serious injury.
There's a phenomenon in the NHL that I call the "29-Team Rulebook". In other words, in the eyes of coaches, the rules apply to every team but their own. Far too often, the same coaches who are the most vocal in criticizing other teams' players do little or nothing to pre-empt their own players from engaging in dangerous and reckless hits.
All of my life in hockey, I've heard coaches holler "Finish your check!" at their players. They drum it home. Now, I appreciate a good, clean body check as much as anyone. I don't want to see clean hits taken out of the game.
Far too often, however, what "finish your check" really means is "Go out of your way to drill that guy any way you can."
They don't emphasize showing concern for another player's safety. They don't emphasize respect. They hardly even sufficiently stress the common sense notion of not going for a hit at the expense of taking yourself out of position on the play .
What usually happens when a player on the coach's team delivers a reckless hit and gets suspended? Quite often, the coach says something along the lines of "he's a good kid," "he was just trying to make a hockey play," "the League is overreacting based on the result," etc.
There is absolutely a trickle-down effect from the NHL to the other leagues in this regard. Players and coaches alike take their cue from what they see the pros do at the top level. As a hockey lifer and the father of two sons who've inherited my love for the game, it distresses and worries me.
Quick tangent: The youth leagues may put stop signs on the back of kids' sweaters but I still see a lot of hitting from behind and hear a lot of "finish your check" demands. Similarly we may give the kids cages and mouth guards, and the goalies cut-resistant underarmor, and yet how many coaches are more sure their own players follow rules that have been created for their own safety?
Coaches are with their players every single day. The officials deal with them a few hours a week. As such, I believe that many coaches from the NHL are doing the game a severe disservice with the mixed messages they send about player safety and showing the same respect to an opponent that you want in return.
Here's a thought for dealing with teams whose players chronically end up on the suspension blotter: What if coaches themselves actually had more skin in the game? What if the coaches themselves started to face suspensions after, say, three incidents involving players on their team in a single season?
Having the coaches take direct responsibility might be the best way to resolve chronic problems. They do it with leaving the bench and we never (or at least rarely) have that problem any more.
A final thought: Coaches love to holler about accountability for the officials. The officials should be accountable, and all internal disciplinary steps taken against one should be a matter of public record. Yeah, but how many coaches willingly divulge when they've fined a player or decided to make an example of his poor play by scratching him?
Listen, I like and respect most NHL coaches. That includes Berube, whom I knew and liked as a straightforward tough guy during his playing days. He fought with his fists and I never had an issue with that as a referee and a former enforcer during my own playing days. What I'm talking about here is a failure as a coach that is all-too-common failing throughout our sport.
Coaching is a tough job with a lot of pressure to win. Everyone wants to create any little advantage possible for his own team. I also understand that things happen and get said in the heat of battle. I've been there myself.
At the end of the day, however, coaches have to recognize by simultaneously promoting a safer and more respectful game and squawking because what they really want is a 29-team rulebook in the NHL (or X-minus-one rulebook for fill-in-the-blank league), they are part of the problem rather than the solution.
Do we really have to wait for an incident far worse than the fate that befell Kris Letang on Thursday to start realizing that "finish your check" has truly become the bane of our sport's existence? Until coaches are subject to discipline for sending the Rinaldos, Matt Cookes, Patrick Kaletas, Chris Neils or Raffi Torres types out there time and time again, we are playing with fire.
********
Paul Stewart holds the distinction of being the first U.S.-born citizen to make it to the NHL as both a player and referee. On March 15, 2003, he became the first American-born referee to officiate in 1,000 NHL games.
Today, Stewart is an officiating and league discipline consultant for the Kontinental Hockey League (KHL) and serves as director of hockey officiating for the ECAC.
The longtime referee heads Officiating by Stewart, a consulting, training and evaluation service for officials. Stewart also maintains a busy schedule as a public speaker, fund raiser and master-of-ceremonies for a host of private, corporate and public events. As a non-hockey venture, he is the owner of Lest We Forget.
Stewart's writings can also be found on HockeyBuzz.com every Monday, Tuesday, Thursday and Friday. He is currently working with a co-author in writing an autobiography.