La Niña is officially back, according to NOAA (National Oceanic and Atmospheric Administration), and since La Niña contributed to a very wild 2010-2011 winter across the U.S. and Europe, a natural meteorological question is whether the same thing will happen this winter.
The weather, much to a meteorologist's chagrin, is not as simple as "We're having a La Niña again this year, so get ready for the same weather as last year." There would be many fewer snide comments about the weatherman always being wrong if forecasting the weather were that simple!
First, the seasonal weather is influenced by more than whether there is an El Niño, La Niña, or neither one, and even when one of them is occurring, its intensity makes a difference to the overall weather pattern.
Last year's La Niña was fairly strong and combined with a repeating negative phase of the Arctic Oscillation to result in widespread outbreaks of bitter cold and frequent snow storms, both across the United States and Europe.
It was a winter that will be remembered for generations for millions of people, with record-breaking snowfall and cold.
The ultimate intensity of the current La Niña is not yet known even though Climate Prediction Center experts expect that it will strengthen some from its current weak state and continue into the Northern Hemisphere winter.
Again, that strength is critical to the details of the forecast, as is whether the Arctic Oscillation will have repeated negative phases during this upcoming winter, which it has for the past two winters. Those particulars have yet to be determined, and the official NOAA winter forecast will not be released until the middle of October.
However, we know from last winter how intense the potential extremes could be, and we also know a few generalities about a pattern that is influenced by La Niña. Those were noted in the NOAA release.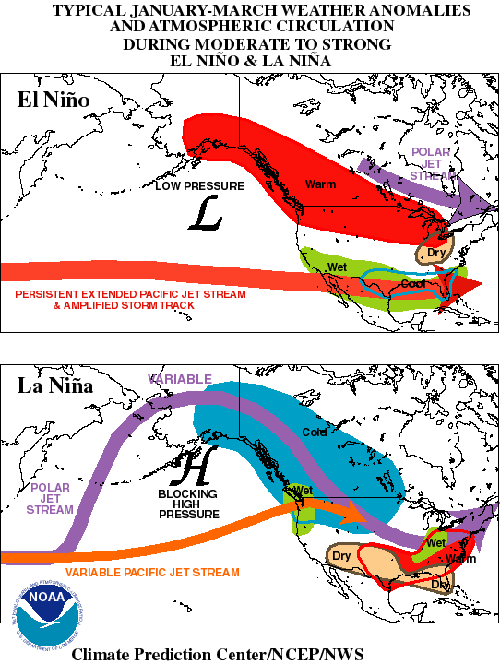 One highlighted piece of information is very bad news for the drought-stricken regions of Oklahoma, Texas, and New Mexico since NOAA believes that La Niña will contribute to a continuation of this drought. Much of this region is experiencing an exceptional drought (the worst category), which began last winter and has intensified during the spring and summer. Parts of western Texas have had less than an inch of rain so far in 2011.
Other general influences of a La Niña include colder-than-normal weather in the Pacific Northwest and northern Plains, along with warmer-than-normal conditions in the Deep South. Last winter, despite the La Niña, the South experienced widespread record cold.
A La Niña is a cooling of sea-surface temperatures in the tropical regions of the Pacific Ocean, and a change in water temperatures in the largest ocean in the world have significant effects on global weather patterns, especially when the La Niña is strong. A La Niña tends to have an overall cooling effect on global temperatures.
An El Niño, on the other hand, is a warming of sea-surface temperatures in the same region of the Pacific. It also has a widespread influence on global weather patterns, especially when it is intense, and tends to have an overall warming effect on global temperatures.