Recent stories highlighting the potential length of the ongoing crippling Texas drought had the ring of an auction.
First bid is for a five-year Texas drought. Five years. Going once. Do I hear 10? Yes, 10 years to the climatologist in the corner. Ten-year Texas drought. Going once. Do I hear a 15-year drought? Yes, 15 years to the forecaster in the back. Fifteen years. Do I hear 20? Going once. Going twice. Sold. The drought will last 15 years.
It wasn't that different forecasters were competing to top each other in the drought-prediction game; most of the stories were based on statements made by Texas state climatologist John Nielsen-Gammon. Gammon says that the current long-term weather patterns might result in a multi-year drought similar to what Texas experienced in the 1950s.
The 1950s drought lasted seven years.
The current weather pattern includes the ongoing La Nina, which is a cooling of sea-surface temperatures in the equatorial Pacific, which usually results in less precipitation than normal across Texas. The current La Nina is following quickly on the heels of an even stronger La Nina that influenced the weather pattern last winter and spring and is largely being blamed for the driest 12-month period on record across parts of the state.
Even though a La Nina will influence the weather for months at a time, it's still a short-term climatological factor compared to something that climatologists call the Pacific Decadal Oscillation (PDO), which is a long-term warming or cooling of the overall sea-surface temperature of the Pacific.
A cool Pacific period, which is the current phase, tends to contribute to more frequent La Nina events than the warm phase, and in general, the cool phase of the Pacific is often attributed to less rain across Texas.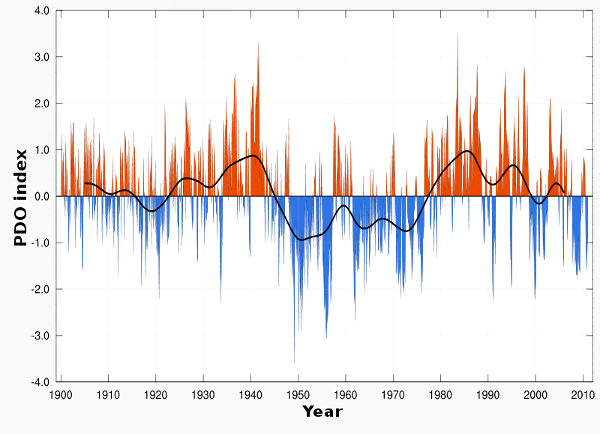 As you can see from the above chart, the Pacific generally remains in the cool or warm phase for many years at a time, and the 1950s -- the time of the worst drought in Texas history -- was a cold phase.
This is why the concern about a potential multi-year drought in Texas is valid; an important piece of the climatological puzzle points in that direction. However, it's important to note that other factors influence the climate on a yearly or seasonal basis as well. For instance, a year with a La Nina, which can occur even during a year when the Pacific is in its overall cold phase, could lead to a year with abundant winter rain. In addition, an abundance of tropical moisture associated with an active Atlantic basin hurricane season could provide short-term drought relief.
In other words, even a multi-year drought were to occur, it would most likely be intermixed with short intervals with normal rainfall.
Currently, nearly 97% of the state is in an extreme or exceptional drought, the two worst drought categories.