The kitchen is just so important to me, to Italy, to almost everyone I know. So, as I am sitting in my Spoleto kitchen looking out at the clouds and rain, I am reviewing my Italian kitchens, some of which have been great and others, not so much.......
For my first four Italian months I had a large, well-equipped kitchen in Florence, in my Piazza Mercato Centrale apartment. The apartment had been in the Palmerini family for a long time, and Signore Palmerini told me that he and his father had grown up there, and that his aunt used to live downstairs. He now lives out of the center of Florence, as many apartment owners do, making economic sense out of owning real estate in a hot real estate market. Since there are so many college students living in Florence for a semester, many of them behaving badly, renting to an 'adult' like me is a boon for the landlord in many ways, since I am a responsible tenant. Sr. Palmerini also told me that he wouldn't rent to students, preferring to keep the apartment empty if necessary, especially because so many of the family possessions, including silver and dishes, are still in the apartment.
So, my Mercato apartment had all of the conveniences, including a microwave and a dishwasher, that I was accustomed to and wanted. I could settle myself at the table near the window or hang the wet laundry on the line outside the window overlooking the courtyard. I had enough pots and pans to cook with, and I made some good meals for myself and friends. Since the great and vast Mercato Centrale was actually next door, I had easy access to wonderful fruits and veggies and meats and chicken and fish and oils and herbs and pasta and all, and I began to have my favorite vendors, some of whom did treat me as a special customer making me feel comfortable, even with our limited conversations. I actually loved the daily ritual I developed of going to the Mercato, choosing and buying only what I really thought I needed for the day.
Thanksgiving with David and Meredith and Mary Ellen and the wonderful college girls from next door was a great time, and I had been able to pre-order a beautiful turkey (which I overcooked, but everyone was too polite and happy to complain) from one of the Mercato vendors, and David and Meredith had brought a package of Pepperidge Farm stuffing all the way from California. We ate in my beautiful dining room, using the kitchen as the prep station and enjoying the Palmerini silverware and dishes. We lacked cranberry sauce and gravy, but had a marvelous time anyhow.
The kitchen window provided sunlight and a view of Italian life in the other windows, and I liked being in that space. The refrigerator was inconveniently located behind the glass door into the room, but somehow that was a minor inconvenience, and I got used to it quickly. All in all, it was a lovely room, and, since it was my first Italian kitchen, it has sort of set a high standard for the rest of my apartment kitchens.
My next Italian kitchen was in Ortigia, Sicily, in Ottavio's recently renovated truly fabulous and modern apartment overlooking the sea. The room was really large and not really designed for good 'flow', but it was great, and, again, I was delighted with all of the modern conveniences (dishwasher, microwave, washer) that were new and worked well. The kitchen had a little balcony overlooking the street below and a wonderful view of the rooftops of Ortigia on one side and another wonderful view through the adjacent living room to the sea. In retrospect, I realize that the kitchen wasn't a comfy place, though, and I used it for cooking and washing but I never lingered there, preferring to settle in the living/dining room area with a clear view of the sea. I cooked some good meals there, though, with fresh produce and fish from the absolutely wonderful daily farmers' market and from the even more absolutely wonderful Sunday market (smaller and with the farmers and producers themselves selling -- the best place to get fresh ricotta, oranges, artichokes, breads, honey, etc... amazing).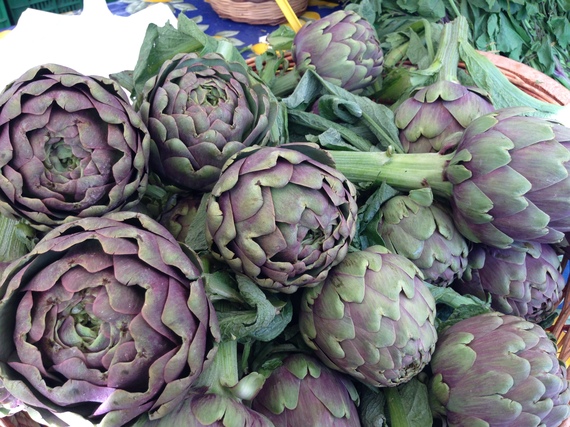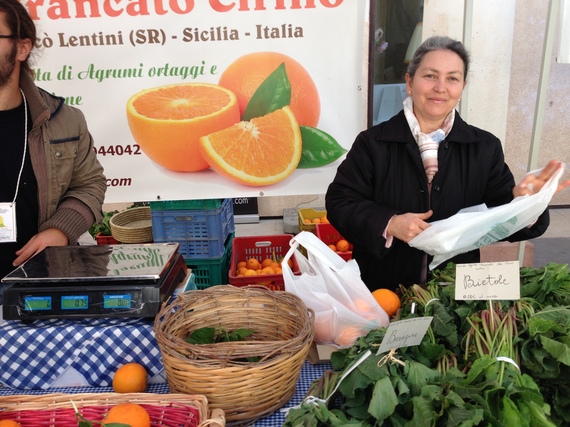 Then I moved to Rome, first to an apartment that I didn't like, with a kitchen that was functional but felt unclean and grimy; it was a Roman bachelor's 'pad' and it had that aura -- I got out of there fast...
Then I ended up with an apartment in Trastevere, at the bottom of the hill (hooray) and with an elevator (hooray again). I believe I was the first tenant; the space was quite lovely, but needed some serious up-dating. The kitchen was a fine room, with space for a small table and stools, but it didn't invite cooking or lingering, and could have done with a good make-over. It had no dishwasher (again I am surprised how that is important to me, but I think it is more sanitary than the way I wash dishes!) and no microwave (the owner, a strange Italian woman married to a Danish man, told me 'everyone is too afraid of them.'). The apartment had been intended to be an in-law apartment, and it was pretty spartan and had no remnant of personality of the intended inhabitants, not even anything on the walls. The sunlight did shine in, filling most of the apartment with wonderful light, but the kitchen never really felt great. One of the issues is that the Danish in-laws must have been small people, since everything in the kitchen was really too low for me, making it difficult to use the faucets or the counter (also true in the bathrooms!). My cooked meals were minimal there, but I was only in the apartment for a month, so that was just fine.
Then I went back to Florence for one more month there, to a last-minute rental owned by an ex-pat couple my art history teacher knew. The apartment was up some tough stairs, and was quite quirky in many ways. It was a long and skinny space, with the kitchen at one end. This kitchen became my 'comfy' space, since I could sit at the table, using my computer and looking out at the garden and terrace. The living room had no good space for me, because it was without windows and without comfortable chairs, so the kitchen became what I needed. Setting up some kind of personal space is just so vital for me, even when I have to work hard to find it or create it in my Italian apartments; I have moved furniture, rolled up pillows and redirected lamps in search of that 'sweet spot' where my body and mind can be comfortable and where I can be plugged into my favorite devices. Sometimes it has taken me a few tries to get it just right, and then, I find, it is usually time to move to another city and another apartment and start all over again. I think being in Italy for a year, wandering around as I have been, is going to be the exactly right amount of time for my 'adventure', and I realize that I am yearning for some of my 'normal', including my good mattress and some comfy chairs.
After the quirky apartment on my re-visit to Florence, I also re-visited Ortigia for a few weeks. Since Ottavio's apartment wasn't available for my whole visit, I did a lot of moving around before I got there. Giuseppina was an incredibly good friend and gracious host, and I stayed in her daughter's garret room for over a week, using Giuseppina's lovely and complete kitchen only a few times since I wanted to stay out of her way and not be a burden. My visit was completely inconvenient for her, since she was trying to finish the school year, manage her family and manage the tenants and the apartments she rents. Thus, my leaving no messes or complications for her was really important. Her kitchen does open onto the deck overlooking the street and the sea, so it was delightful to stand at her stove making coffee and enjoy the view.
After one of Giuseppina's little apartments became available, I moved in for a few days. The apartment has recently been renovated and really is a short-term vacation rental at this stage, so it isn't really equipped with a good kitchen. It has a couple of burners on a counter cooktop, but the little cooktop takes up the whole counter, making any preparation quite impossible for me. Again, I was happy to leave that non-kitchen, especially after the swordfish dinner I planned just didn't work out in that space as I had hoped. I was just thrilled to move back upstairs to Ottavio's apartment for another week, where I settled in happily and once again enjoyed it all.
Now I am in Spoleto, and my apartment is up in the high part of the city, near the Duomo piazza. I knew my apartment was on the first floor (NOT the ground floor, of course, in Europe) so I would have a few steps to climb to get into my used-to-be-the-attic apartment, and the stairs are fine. The whole city is on a hill, with different levels connected by stairs or sloping sidewalks down the alleyways; my apartment stairs seem tame by comparison!
Anyhow, my Spoleto kitchen is a good space. It is small, but with enough room for a table and chairs that I use as my base; it is painted white, with some red accents, and has recently been renovated in a very basic way. My two high windows feel as if they are at a heavenly level, and I get great views of the whole city when I stand up and of the blue or cloudy or stormy sky when I sit down. (If the apartment belonged to me, I would build in a kitchen island or counter with comfortable stools or chairs so that I could see the view while sitting.) The counter space in my kitchen is minimal, and the kitchen supplies are also pretty lacking; I don't even have salt and pepper shakers or a sugar bowl!!! My ultimate shock came when I realized that my kitchen lacked a cheese grater, a real necessity in every Italian kitchen!. I do have a pretty new cooktop and oven and refrigerator and microwave, but no dishwasher and very few pots and pans; I have asked the realtor for some more utensils and cookware. I don't know who owns the apartment (and it could be Norma and Laurie, the realtors), but I think they have recently done a pretty basic renovation in order to rent it and not to make it a home. I like the kitchen, have my computer and my lights and my stuff scattered everywhere, and I am happy here. In fact, it is the room that I am the most comfortable in, and, perhaps the only room in the apartment that I am completely comfortable in so far, most likely because I have personalized it.
Some photos of beautiful Spoleto: