The Spoleto Festival dei 2Mondi (big big arts festival) started on Friday and the town, its residents and its shops have all been spiffed up; the air of anticipation and the wandering tourists are both readily evident.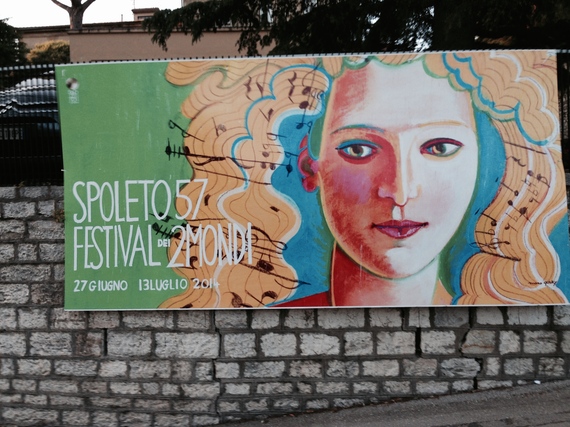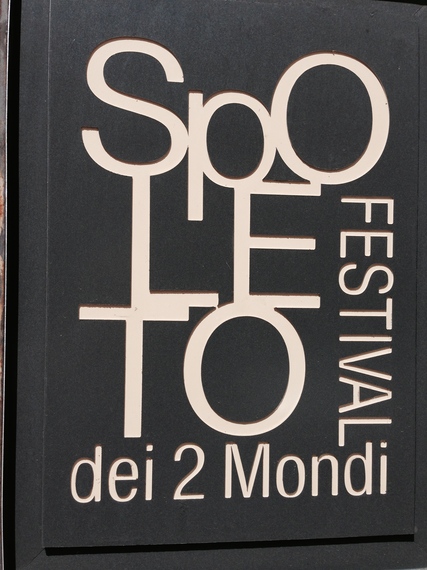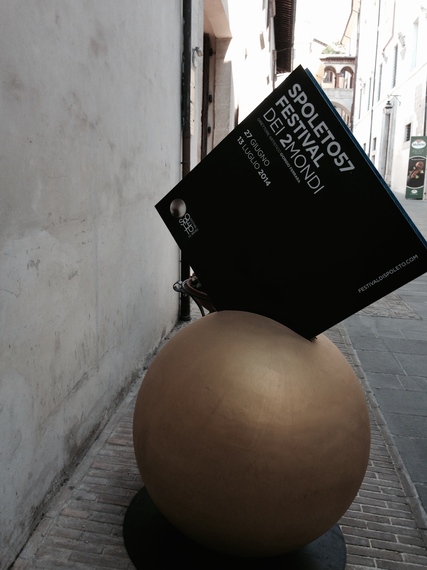 The Festival is part of the reason I chose to spend the summer here in Spoleto, and I have been looking forward to the whole experience, especially since it is all happening in my pretty immediate neighborhood and in some absolutely gorgeous old venues.
I went to the Festival office the other day to get myself a Festival Pass, which, according to the printed and online material, will allow me to attend any and all events for the entire 3 week Festival; so far I have returned to the office three other times in order to get the details straight, and I am probably not completely done there yet.
Since, apparently, I was the first person (ever) to want to buy the Festival pass, the very nice people in the office didn't exactly know what to do with me. To complicate matters, since I had been told to choose 20 events in advance so that they could print out tickets for me, I showed up with lists of my desired events, including dates and times and venues - it wasn't exactly an excel spreadsheet, but it was definitely in calendar form! Francesca, a truly lovely and patient young woman at the front desk, was really helpful, but she often had to call in for reinforcements, including whoever was in charge of the office at any given moment. As a result, they kept giving me gifts, and now I have tickets to at least 20 events in the next 3 weeks (opera, dance, music, theater, events, etc.), a tote bag, a 'Staff' tee shirt, a bracelet, a calendar and invitations to some special events!!
My friends later explained to me that Italians don't ever plan in advance, and that the Festival staff probably went home to talk about 'the crazy American senora' who was so ridiculously over-prepared!!! It was really very funny, and now i have a new best friend (and maybe more than one) at the ticket office!!!
Last night was opening nite (by invitation, and that's me!) so I went to an opera performance at Teatro Nuovo Gian Carlo Menotti, a gorgeous gem of a recently-restored theater in an ancient building about a 7 minute walk from my apartment. I, sitting in the 2nd row in a fabulous seat, saw three short operas ('a concentration of humanity', as the director has written), each one the story of a woman in crisis. The whole experience was really amazing for me and my senses were really heightened - seeing and hearing the beauty, feeling the intense emotions, and almost tasting and touching it all from my lovely seat so close to the stage. The rest of the audience, mostly Italians, were dressed beautifully and were wonderful to watch, adding to the whole glittering experience. Apparently I was surrounded by a variety of beautiful celebrities, since upon exiting I saw many cameras and microphones and in-process interviews; in addition, the Carbinieri were outside the building, in force and in full uniform, including their swords!!! It was quite a lovely scene on a gorgeous summer night.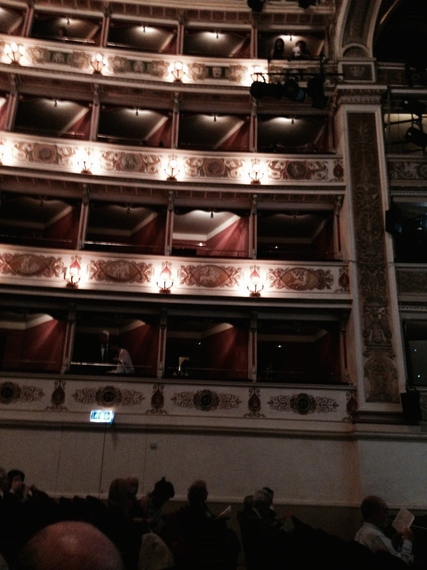 Teatro Nuovo Gian Carlo Menotti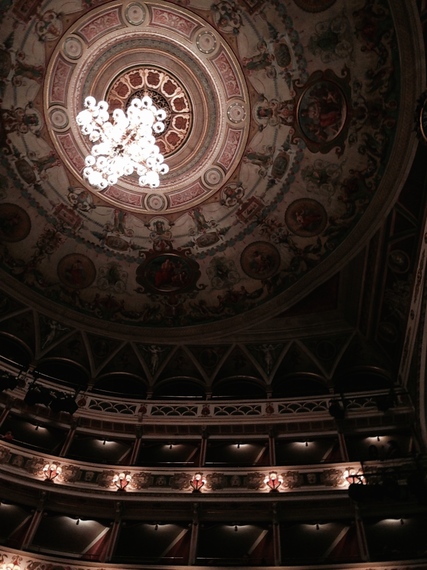 The town of Spoleto has been cleaned and polished and decorated for this Festival. New restaurants and new shops have just opened everywhere and everything is looking pretty spiffy and festive; the pride of the people of Spoleto is really evident, and it is really 'cute' to see. I was pretty amazed to see so many people in my neighborhood last night, most of whom were busy looking at their maps. They don't know yet that the ubiquitous and free map of Spoleto is not really very helpful, since most streets and alleys aren't named!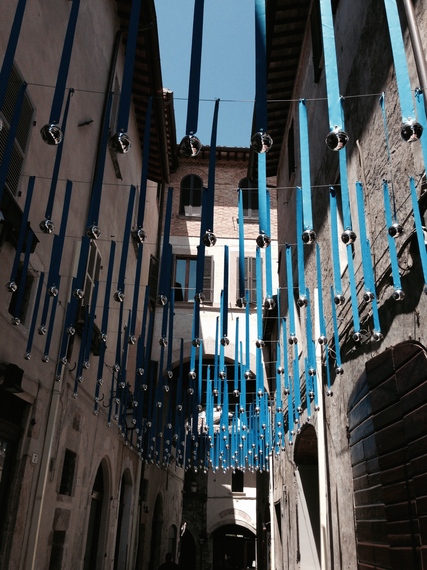 DECORATIONS
PIAZZA DEL MERCATO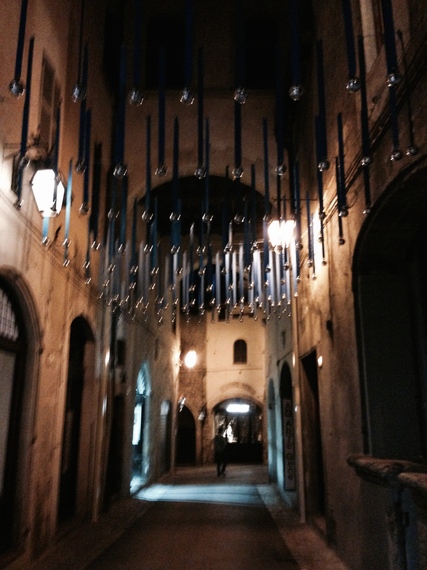 Since daylight lasts now till about 9 pm, I like to go for a walk around 'my' Piazza del Mercato each evening. 'La passagiatta' (THE WALK) is a true nightly Italian tradition, giving everyone a chance to socialize and watch and enjoy. Stopping at a bar for an outdoor apertivo (drink and snacks - 'happy hour') or at a gelateria for a delicious cup or cone offers a fabulous view of the world and an opportunity to participate in it. I had really envisioned experiencing Italy through its neighborhoods, and in Spoleto I do feel as if I am part of this neighborhood. I frequent two local bars, one to watch the World Cup soccer games while enjoying my crodino (a delicious orange drink) and potato chips, and the other for my cappuchino and their free wifi; I have (short and in Italian) conversations with the local merchants; I sit outside the gelateria eating and enjoying. I will have to schedule my passagiata around my Festival events for the next few weeks, and I think I can figure it out.......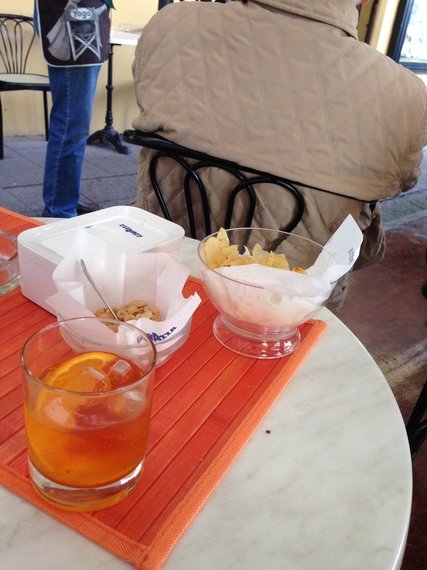 CRODINO
BAR CAFFE ANTICO
(WITH DOG)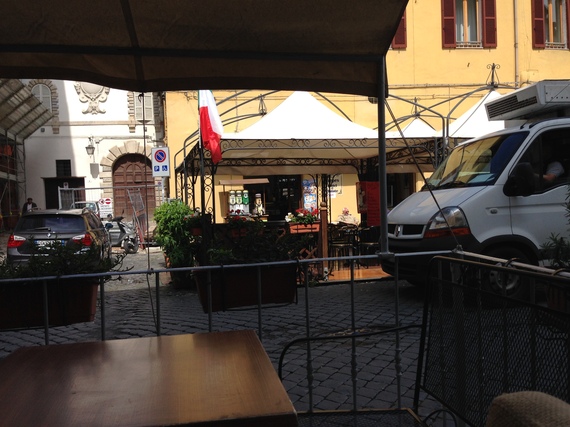 CAFFE DEGLI ARTISTI