STAIRS, EVERYWHERE!!!... And, what did I expect, coming to a medieval hill town ("older than Rome", said a proud resident)?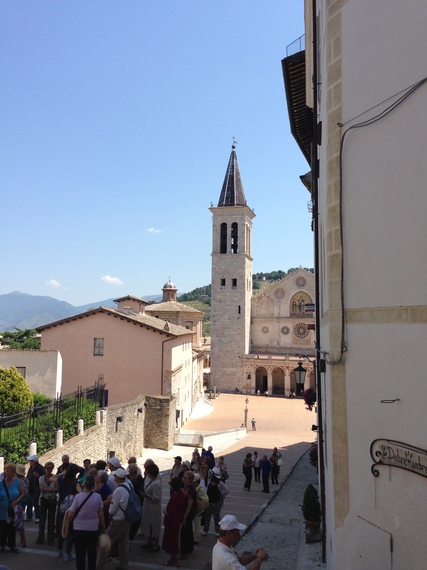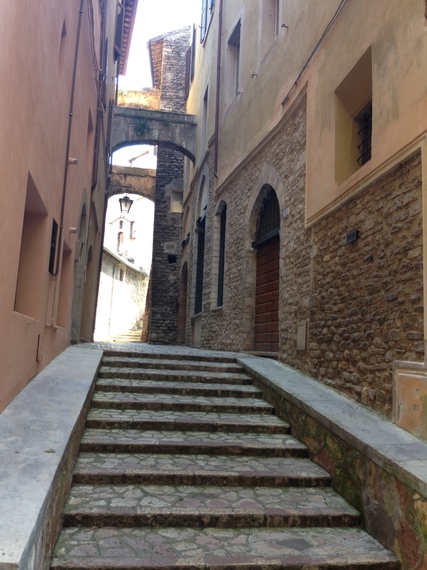 I arrived in Spoleto a couple of days ago, after leaving Sicily and then spending a couple of wonderful and busy days in Florence. I saw my friends, ate wonderful meals filled with laughter, and meandered in the shade; Florence was HOT (about 93 or so) in the sun, very very sticky, full of tourists and still, of course, absolutely gorgeous.
My trip to Spoleto, therefore, involved -
1. a broken suitcase zipper in Ortigia about 45 minutes before the taxi to the airport was due....
2. a frantic rush to my friend Ros's apartment to pick up a loaner suitcase (thanks, Ros, Izzy and Juno)....Ros and her beautiful daughters are, somehow, destined to be my guardian angels, I think (Ros rescued me last time I left Sicily by loaning me cash when my bankcard had expired...)...I believe the girls had to be awakened by a phone call from Ros, get dressed, find the suitcase and deliver it to me down the stairs at the door within about 5 minutes......amazing....
3. a desperate re-packing of everything I am lugging around now, thereby making a total mess of everything - I finished about 5 minutes before Giovanni showed up with his taxi.....
4. an uneventful and easy flight from Catania to Florence and a lovely welcome at 'my' Hotel Davanzati', where I was welcomed warmly by Fabrizio and shown to my great terraced room for a two night stay.....
5. then, on Monday, a taxi ride, with all of my belongings packed into a newly purchased lightweight suitcase, which somehow got very heavy, to the train station in Florence to catch one of the few direct trains to Spoleto (about 3 hours away).....
6. a long and hot (ineffective air conditioning) train ride in comfortable seats, with lovely people (in Florence a nice big man from Naples; in Spoleto, a lovely young woman from Spoleto and then a lovely young man from Spoleto) helping me in and out of trains and up and down stairs with my suitcase and bags.....still not easy.....
So - how did I end up in a non-air-conditioned apartment with no dishwasher, with stairs and ceiling beams everywhere, in a medieval town with hills and stairs and cobbled streets...??????
Well, for me transitions are still hard, and I am still trying to settle in here and make this cute, small, clean place (full of difficult stairs and ceiling beams that i am getting intimate with....) feel good -- so far, its coming slowly, but i am now at the kitchen table looking out a high window at the mountain/hill across the way that is dotted with houses and gardens. I am up really high, near the Duomo, and usually the birds are flying around.
I still don't know where i am, exactly, although I am letting my wanderings teach me. I have found a few necessaries and talked to some nice people in the bars and the stores and the piazzas, still never completely understanding what they are saying. I have gotten the washing machine to work, which is wonderful!!! I almost all unpacked, but not quite, so still feeling unsettled and had to have my padlock cut off my suitcase (cheap padlock - i probably deserve it, but still.......the realtor sent someone over with a hack saw.....pretty funny - another travel misadventure!!!) The first night I was here I found a lovely little enoteca around the corner for a truffle omelet and salad, and it was great, but I went back last night and it wasn't so good; it could be that I was there too early (remembering the Giuseppina said, '7:30 is for children.') There are plenty of restaurants here; a local saying states that there are 55 restaurants and 55 churches, including, of course, a beautiful Duomo with bells ringing right now. The best part of the apartment is the terrace, which is up some tricky stairs, but is worth it for the view of the whole town; I do share it with the birds, but I can deal with that too. I have to do some more exploring.....
And it is summer here, with gorgeous sunshine daily, and, fortunately, some shade on every street. I am just beginning to find my Spoleto rhythm, which is going to be different than my rhythm in previous places, I am sure. So I try to go out each morning, before the heat really strikes. Unfortunately, my mornings don't always start early enough, leaving me wandering and erranding and exploring in the middle of the day. However, I find I must stop daily at a local bar (Caffe Degli Artisti in Piazza del Mercato, usually,) to sit, watch and listen to (without complete comprehension, usually) the world for a while enjoying my cappuchino and le dolce (perhaps a brioche con crema, which is lovely).
Anyhow, after some errands and meanderings, I usually make my way back to my apartment, and I find some cool relief here. I can now understand the wisdom of Italy shutting down for the afternoon, and I delight in the peace and calm of a Spoletto afternoon alone. For the past couple of days, thunderstorms have moved in over the mountains, slowly and beautiful, and have left about 15 minutes of hard rain before heading to another place. The views, the sounds and the cool winds add to the drama and the awesome-ness.