Last week I pulled my head out of my ass, got the top of it cut and colored, and the front of it painted by makeup artist Stacy McClure. If I'm going to be hamming it up in holiday Facebook photos, I don't want to look like a turkey.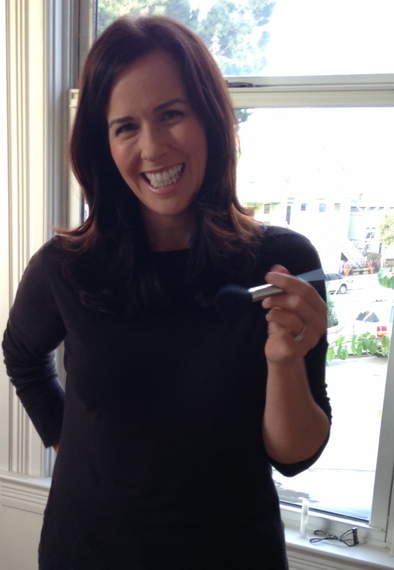 "Hi," greets Stacy, so damn cute and sunny standing in the doorway of her Bernal Heights home studio. "You look so much better in person than you do in your photos!" Um, Thanks?
Stacy happens to be a dear friend of Jslow's, my blog partner at Blank Stare, Blink. They met as Cupertino teens, sharing a huge passion for Rockabilly. I do not hold that against either one of them.
Her fascination with the face started at the tender age of 10, when she first began sketching her friends' portraits on paper, changing canvases to the actual face in high school, painting the eyes, cheeks and lips of her classmates for dances.
She graduated from friends' faces to strangers', starting her career in retail cosmetics to become a regional makeup trainer for MAC Cosmetics in Portland. From there she began to freelance and built such a following that she started and continues her own practice, "Makeup by Stacy."
When Jslow begged me to see Stacy, I felt the same sense of dread I get prior to visiting the dentist, knowing I'm about to be scolded for not flossing or brushing enough. I knew Stacy would recoil by my lack of eyebrow maintenance, acne scars, wrinkles, age spots and other imperfections I'm too lazy to deal with.
Because I spent my formative years constantly covering my pimples in heavy foundation and tinted Clearasil, the thought of going back under a clammy and claustrophobic mask of makeup is not appealing. One of the best things about getting older, at least for me, is the fact that the oil has dried up, most of the zits are gone, and I don't need to wear makeup to feel okay. I put that in the win column.
Yet I know that wrinkles and dark circles are the acne and oil of yore, and need to be dealt with, at least with a slight hand.
Stacy knows this. She knows I know it too.
She can also see right through me.
"Will you do everything I teach you today?" she asks as I nod, my face about three inches from a hand-held mirror, just about the most horrifying experience in the world. "I know you won't" she says. She is right about the "everything," but I will do some things and for me that is progress.
And what did Stacy teach me in our hour together?
Enough for ten more posts. Jslow did such a thorough piece on Stacy here -- please check it out to learn how to apply makeup to your over-40 face, and what products to buy. It's invaluable. You can also check out Stacy's blog beautybeyond40 for more tips on how to look your best.
For me, I learned to appreciate my eyes, and that just a little effort to shape my eyebrows and apply a daily under-eye concealer (Laura Mercier Secret Camouflage concealer applied with the Laura Mercier Secret Camouflage brush) provides an instant face-lift. I also learning a quick squeeze of an eyelash curler, and a touch of Mascara (Bad Gal, Black) turns tired into radiant, which helps you sparkle in Instagram snaps.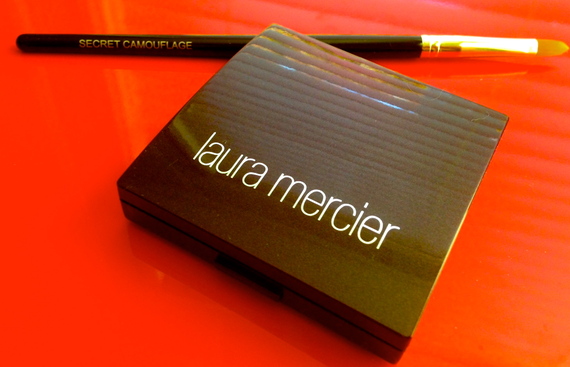 And even just a hint of Nars St. Moritz tinted moisturizer massaged over Dr. Haushka Rose day cream feels clean and evens out my complexion.
So Stacy, I really did listen and appreciate what you taught me.
Our face is the most important part of our outer being, the only body part we can't hide in a slouchy pair of jeans, over-sized sweater, big fluffy coat or baseball cap pulled down to our nose. It also has the power to negate all of the hard work we do to style every inch of our bodies in the latest fashions.
For you ladies lucky enough to live in the Bay Area, gift yourself early with a trip to Stacy, whom we can't recommend more highly. And don't worry, she won't be blasting the Stray Cats Strut. Unless Rockabilly is your thing, too.
For more style musings where we give Father Time the finger, please visit Blank Stare, Blink.