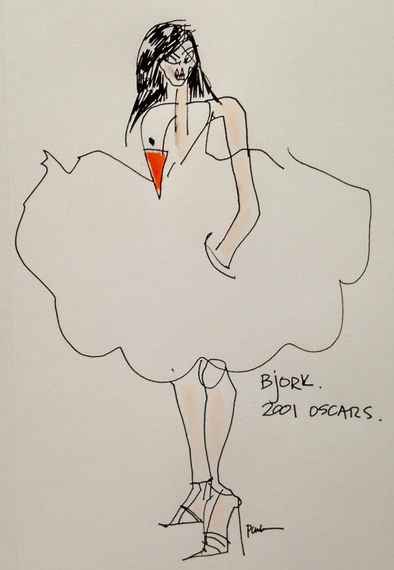 Men have the Super Bowl. We have the Oscars, the largest live television event where we can gather to root for our favorite actors or movies. And like the Super Bowl, it doesn't matter who wins or loses; it's all about the spectacle -- which here really means, "who wore what and how did they look?"
Watching Reese in yet another sunny sheath is all well and good. *yawn*. But what we really crave is that WTF moment: Someone, anyone, pushing it, having fun, flipping the finger at appropriateness. Where have all the Chers and Bjorks gone?
While Jslow prays for Elsa Schiaparelli to make an Oscar appearance, I'm betting she stays home. I just don't think the celebrities of today have it in them. Our over-styled society is so afraid of imperfection that they've airbrushed all of the quirks and color and soul out of everything. Quick, can you name one actress from the 2013 Oscars and what she wore? Exactly.



One of the beauties of getting older is the liberation that comes from just not caring what other people think. Well okay, we care a little, but not as much as we did during that awkward post-college, early to mid-career "growing up and getting to know ourselves" era, fearing any false fashion move will torpedo our job or relationship du jour. God that sucked.
Which is why women like Tilda, Julia and Ms. Dench have nothing to lose by releasing their inner swan. Neither do you!
For those of you who've actually seen some of the nominated movies, we've included this handy ballot from Red Envelope to help you keep score. This is one of the few years I've seen quite a few of the nominated films, having moved to a neighborhood with an excellent and rare old-school theater (The Empire in West Portal) that features independent films. I happen to have a soft spot for Philomena and Her, two of the quieter movies that moved me, so I'll be rooting for those underdogs to fight it out with Gravity and 12 Years A Slave.
And please check our Instagram feed for my illustrations of our favorite looks -- or in this case, my favorite things to draw. And perhaps, just perhaps, I'll get to draw Elsa for Jslow.
For more of our style musings where we give father time the finger, please visit us at Blank Stare, Blink.