Paris Fashion Week ended this week, capping a month of non-stop runway shows that stomped from New York to London and over to Milan and France. Even for those who love fashion like me and Jslow, it's almost a relief to not feel the need to obsessively check Style.com to scan the latest collections. Frankly, it's exhausting.
Making matters worse, there is this site, Moda Operandi, which features collections straight from the runway available for pre-order TODAY (pay half now, half in the fall when they become available.) Will this phantasmagorical Peter Pilotto Marble Cara Coat be available come September, or should I buy it now? Do I even like it now? Will I like it in 6 months? Can I afford it in six months?
It was also a relief to spend last week by a pool caring but not caring about what to wear. OK, so I always care. But it was different because shorts and tanks and sandals are so easy, and the warm weather really limits options. Too many options are paralyzing and confusing. Even today, Jslow was talking about how tired she is of having too much, and how excited she is to have our new friend Rhianna (from ACNEstudios, not Barbados) come consult with her on what to toss and what to keep.
Ninety-nine-point-nine percent of the population has not spent a second watching or reading or thinking about the various Fashion Weeks. Yet 100 percent will be influenced by "Fashion Month" for months to come as key trends are copied and adapted and sewn and distributed to a department store near you.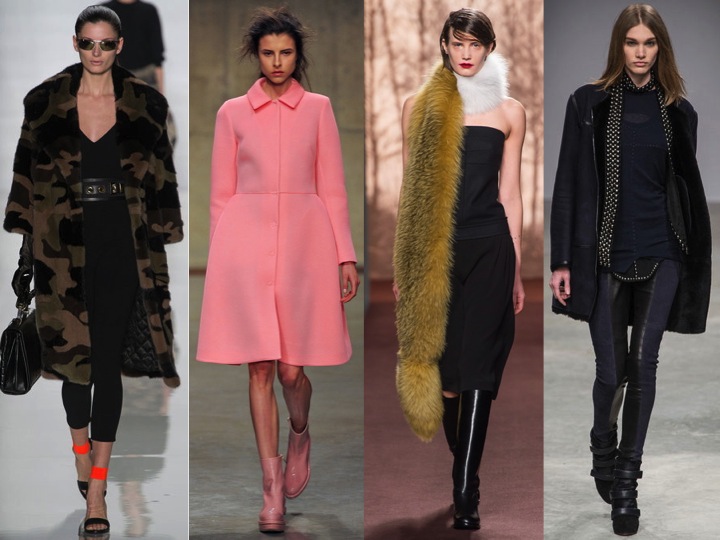 From left to right above -- NYFW: Michael Kors "Camo" trend, LFW: Simone Rocha "Pink" + "Tractor Sole shoe" trends, MFW: Marni "Fur" + Strapless" trends, PFW: Isabel Marant "Leather" trend. Photos by Style.com.
To help you wade through this sea of options, put on your best winter boots (which NEVER go out of style) and skim our notes on what trends have emerged, and thoughts on what to "toss" and what to "keep."
New York:
Shimmery metallics

(You must be joking. Having said that, Jslow groaned to me "then why did you have me buy the glimmery gold blazer last month?" Because -- she can pull it off. Me? I'd look like Liberace)

Military: Camo, cargo and olive green

(Yes please, I'd love to hide behind that coat and camouflage my ass when I feel hideous)

Winter whites

(reminds me of Casual Corner career-wear from the '80s, always yellows from excessive dry-cleaning)

Thigh-high boots

(We're fans, but such a fine line between pretty and Pretty Woman/hooker)
London:
Patent Leather

(Great for moms dealing with kids' barf and drool)

Bomber jackets + chubbys

(Michelin Man territory, works best on tall ladies)

Prints

(Always appropriate, great for stain disguise and deflecting attention from figure flaws)

Pinks and deep reds

(generally flattering against all skin and just plain pretty; beware of dicey combos of pinks and shapes that give a Mary Kay or toddler vibe)
Milan:
Fur

(We're fans, we can't deny. Makes anything you wear instantly glamorous)

Animal prints

(Also fans, can look very cute and retro; too much can scream Real Housewives of New Jersey)

Silver + shine

(See "Shimmery metallics)

'40s silhouettes

(Very classy and glam)
Paris:
Leather

(Love it, all about the right fit and execution -- we love leather in more feminine shapes: leather blouse, pencil skirt, or paired with prints)

Checks

(can't check this box, unless you want to shoot ducks)

Strapless

(If you are lucky enough to have the need for formal wear, we hate you.)

Masculine slacks

(Tough to pull off (and no man will want to), can work if the fabric is soft and skims the body)

Tractor-sole shoes

(I love, Jslow hates, probably not right for most wheels)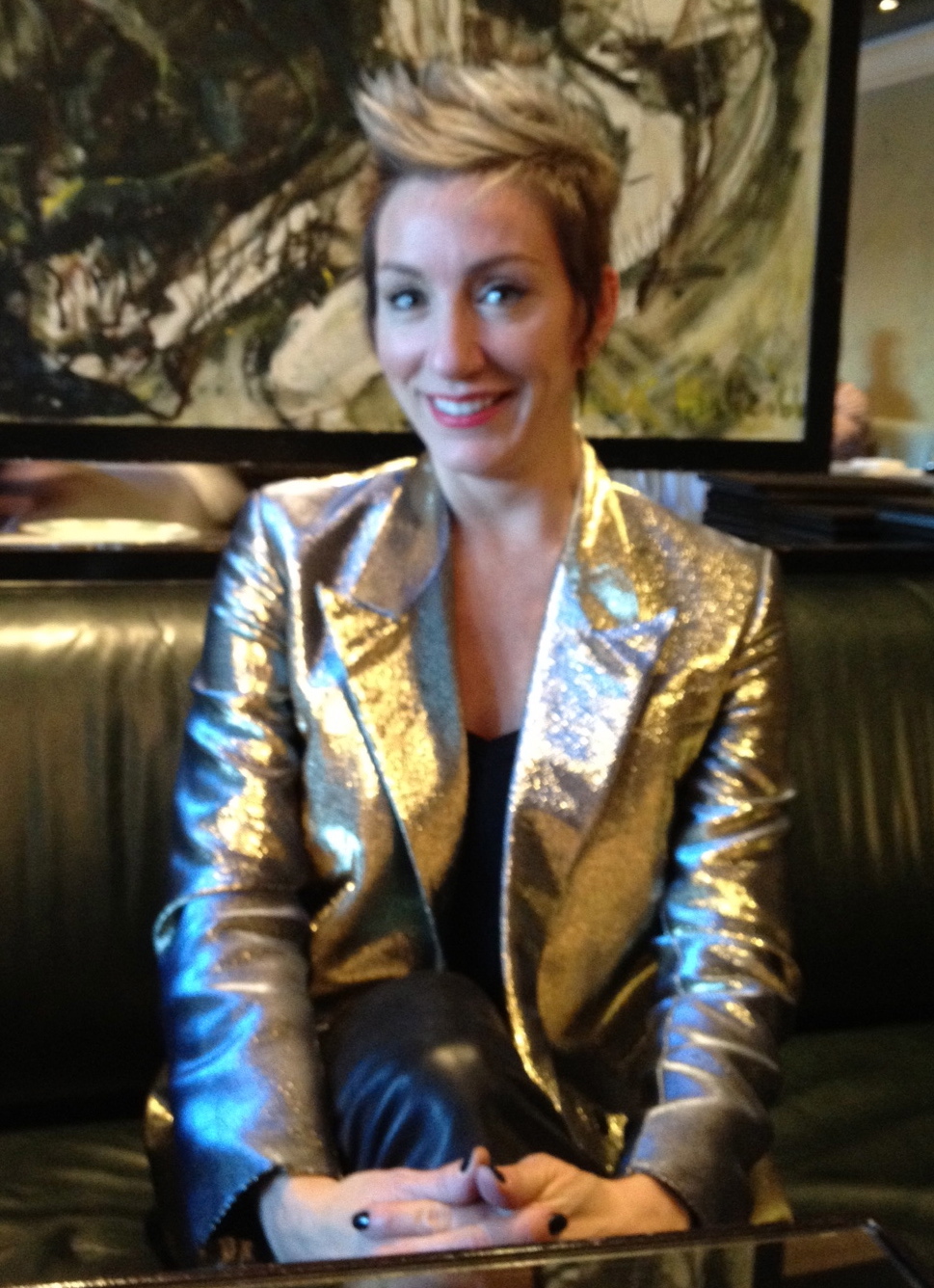 Photo above: Jslow sparkles in her Kim Gordon for Surface-To-Air gold blazer, purchased from Owen in New York. She most definitely does not look like Liberace.
In the end, our advice is pretty simple: Find trends that suit you and make you feel great inside and out. We tend to spend on things we wear every day, like a great coat (we are both dying over the Michael Kors camo and Simone Rocha pink coats above), boots (maybe it's time to try thigh-high, or perhaps a great ankle or knee-length pair in on trend RED), or bag (fur perhaps?) and a simple piece in leather. And who knows? Maybe I will try metallics. As Jslow pointed out, everyone could use a little sparkle. Let's just hope Rhianna puts her blazer in the "keep" pile.