SCAD alumni missionary-architects Scott Jackson, Stephanie Jackson, and Eric McManus are proof positive that it is both possible and pragmatic to bring eco-conscious design to developing countries.
In 2011, the trio founded GoDesign -- a faith-based organization that builds homes, churches, and schools. To date, GoDesign has traveled to Ethiopia and completed construction on a school and a housing prototype in Dilla, and built a school in the Afar region. They are currently building a housing duplex in Dilla, as well as a housing prototype and a school in K'ore. Best of all, GoDesign creates hope. Volunteers for the group share the gospel as they create a tangible expression of compassion.
The original inspiration for GoDesign came from a particularly waterlogged mission trip that Scott and Eric took to Ethiopia, a country where questions of survival trump questions of education, a situation that is reflected in the numbers: According to UNICEF, approximately 72 percent of school-aged children lack access to formal education. While the roar of rain was drowning out the voice of the local preacher, Scott and Eric were reflecting on these realities and listening to a hunch that told them they could put their SCAD education to work for these communities. They could advance formal education by building schools. They could minister to congregations by providing noise-proofed sanctuaries. They could provide privacy and shelter to families by constructing homes. Most importantly, they could teach communities to replicate the practices of sustainable design.
Back in Savannah, Stephanie joined Scott and Eric in assessing the challenges of bringing the idea to fruition. They had to control costs, provide labor, and ensure sustainability, both environmental and programmatic. With a little help from their friends, volunteers, and organizations including SCAD, GoDesign found the answer to their construction requirements in - you guessed it - design.
GoDesign makes a point of using exclusively indigenous building materials while incorporating native techniques. As a principle, the use of indigenous materials serves two purposes: it is cost-efficient and replicable. In practice, GoDesign might build stone walls or employ rammed earth construction, by using concrete tamps to compact dirt within temporary frames. The resulting earth and stone structures offer secure, sturdy, and noise-proofed alternatives to many of Ethiopia's existing structures, which are largely assembled from tin, cardboard, sticks, and tarps.
In addition to being resource-efficient, GoDesign applies a number of creative design solutions to maximize the comfort of their structures, regulating ventilation, light, and climate. In several buildings, they created strategic gaps between the roof and the wall, encouraging the exchange of air and the entry of light. In another instance, GoDesign constructed walls from rock in order to provide residents with a respite from the heat; on average the interior temperature of GoDesign's stone structures is 15 degrees cooler than that of existing regional construction. In a particularly ingenious move, GoDesign even provided one family with a butterfly roof to double as a rain collector.
Throughout the experience, GoDesign shares their designs and techniques with their indigenous partners -- the local masons and carpenters and construction workers who are likewise consulted for their expertise. After all, the key to GoDesign's sustainability lies in the hands, hearts, and minds of the local tradesmen they enlist to continue the improvements begun by the volunteers. As an added boon, GoDesign's reputation for high quality work has been a benefit to local tradesmen by association; many employers consider GoDesign experience a form of regional credentialing currency.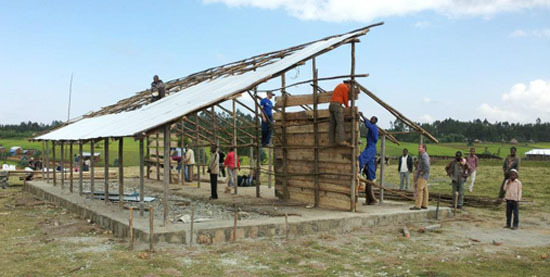 Follow GoDesign's progress on Facebook, Twitter, and Instagram, and join with them by donating to their work. In the process, you will build a lasting legacy of eco-conscious and socially responsible design that I am proud to say began with an auspicious meeting of students here at SCAD.