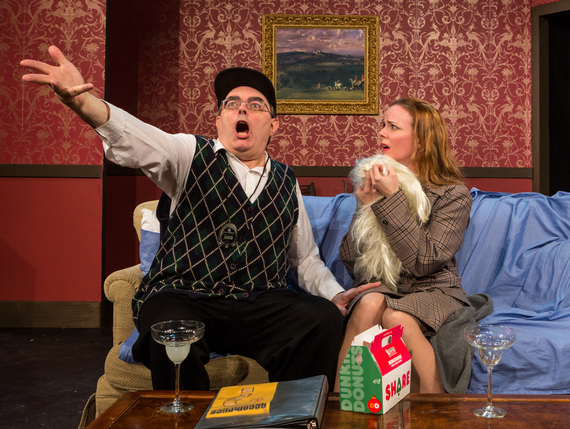 Housed at the Walnut Street Theater, a small, but intimate setting, the cast of Accomplice hurriedly prepared themselves as a steady crowd of people gathered in the lobby for a thriller of a play. Now in its third and final week, so far those who have seen it have enjoyed it, according to Kirsten Quinn one of the actresses in the play.
Written by Rupert Holmes and produce by Isis Productions, Accomplice is a theatrical performance filled with twists and turns from the very beginning until its surprising ending. The play stars Rob Hargraves, Renee Richman Weisband, Mark Knight and Quinn.
This show is a fun whodunnit with a murder, mystery and wacky British farce . Accomplice will keep the audience guessing until the very end.
It's difficult to say too much about the play without giving anything away and spoiling it for those interested in seeing it. Weisband's performance brings on the play's initial mystery and then we are led through sinister and humorous murder plot.
Quinn, a Community College of Philadelphia professor, plays a character who is a struggling, yet quirky actress who, as with many characters in the play, is not who she appears to be.
Learning who's who turns out to be the ultimate fun of being part of the audience.
Accomplice premiered on March 6 at the Walnut Street Theater in Philadelphia. The final shows will be showed this weekend and will be shown in studio five of the theater.