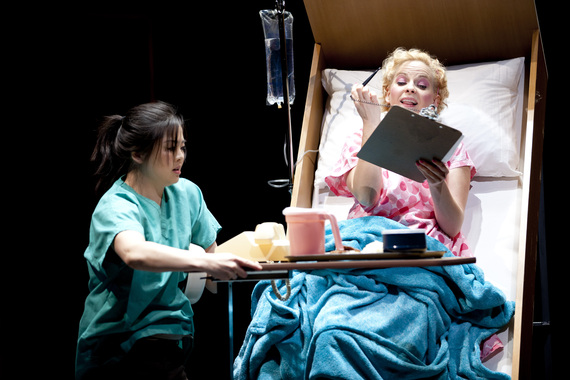 You For Me For You 2012: Staring Ruibo Qian and Kimberly Gilbert. Photo by Scott Suchman, courtesy of Woolly Mammoth Theatre Company.
Founder of the Minneapolis-based Mu Performing Arts, visiting playwright and director Rick Shiomi continues his last installment of his play-reading series, "The Way Home," in Philadelphia co-presented by the Asian Arts Initiative and InterAct Theatre Company on Monday May 19. Through contemporary performance, the free series explores diverse perspectives on what "home" means to the Asian American community and its constituents.
Shiomi created "The Way Home" as part of a Doris Duke Charitable Foundation-funded InterAct artist residency focusing on raising the profile of Asian American theater in Philadelphia
"Rick Shiomi and Mu Performing Arts have contributed to a theater scene that is flourishing in Minnesota," Gayle Isa, Asian Arts Initiative executive director said in a press release . "'The Way Home' is part of Shiomi's effort to replicate that model here in Philadelphia, and we're excited to present these fresh playwrights' work to local audiences for whom Asian American theater might be a brand-new and inspirational experience."
Asian Arts Initiative hosted two of the series' four readings earlier this spring. In Mia Chung's You for Me for You two North Korean sisters, facing starvation at the hands of a corrupt regime, attempt to flee their country. When one sister fails to cross the border, they are spun into individual journeys across time and space that test each sister's nerve, heart and imagination.
"The play is definitely not realistic, it pretty much uses magic realism to tell the story because in many ways its almost a feet of magic for North Koreans to be able to leave their country," Chung said. "The play tries to imagine what the world looked like from a North Korean prospective. In the play, one of the sisters goes to the New York, so we're seeing it from her perspective. The other sister, for a variety of reasons, gets left behind and then we sort of see that world from her perspective as well."
Chung was inspired to write You For Me For You when first hearing about journalists Laura Ling and Eura Lee being held captive in North Korea in 2009 and the discovery of JC Dugard later that year.
"It basically gave me a understanding better the stability of North Korea," Chung said. "What I'm trying to do is see things from a North Korean perspective and in gender, and an understanding of their community."
Leading up to the National Asian American Theater Festival and Conference coming to Philadelphia this fall, Asian Arts Initiative and InterAct Theatre will once again partner to present a new play reading series directed by Shiomi.
Michael Golamco's Cowboy Versus Samurai, premiering Monday, is an Asian American spin on Cyrano de Bergerac that takes a humorous look at racial identity and romance in the middle-class Midwest.
"Each of the plays I think really deal with the issue of home for Asian Americans in a sense," Shiomi said. "For many of us there is a sense of moving your home from Asia to America. For Asian Americans born and raised here there's a kind of sense that this is our home. During this residency I've tried to develop interest in Asian theater in Philadelphia."
Shiomi and members of both Asian Arts and Interact Theater reached out to Asian artists that they knew and asked them to submit plays for the series.
They received about 20 submissions and were able to choose the initial plays that would eventually become the series.
"Two of the four are new plays and two of the plays are ones that have been produced before, so it's kind of a mix," Shiomi said.
You For Me For You is actually one the plays that have been produced before, first by Woolly Mammoth Theater in the fall of 2012 and then earlier last year in Boston.
"It's gone through several revisions." Chung said. "I think this play really calls for the use of the imagination and it asks audiences to use their imagination and to listen carefully and open their hearts."