I'm on a flight as I sit to write this blog post and Pat Benetar's "Love is a Battlefield" is pulsing through the stereo and into my headset. "We are young..." she exclaims with a feigned yet convincing defiance, and how right she is, or was? On the precipice of being considered "over the hill" and my three year anniversary blogging for Huffington Post, I cannot help but admit that my college tees no longer suit my frame as they once did, and that my face crinkles with the ease of perfectly pressed origami , or that a visit to my favorite barkeep merits Emergen-C with a bacon egg & cheese the next morning just to shake my lethargy. However, it's not my physical world that I feel has come to cause me angst, it's my supra social (online) ecosystem.
In their study of the motivation behind social network disclosure among men and women on Facebook, Susan Waters and James Ackerman found that
"Individuals using Facebook to disclose (private information) felt this helped them better manage relationships and improve their own psychological well-being. The second perceived consequence was negative: Individuals using Facebook to disclose often found they often spent too much time on it."
I must admit that I treat my Facebook and social media alerts like a client in need of nurturing and it's my perception of that friend activity, and what it means, that I'm reevaluating.
You see, my LinkedIn tells me that all my acquaintances are entrepreneurial self starters with an uncanny ability to direct, produce, create, manage and otherwise overshadow Bill Gates and my generation's Mark Zuckerberg. Instagram shows me dogs that are cuter than mine alongside images that have been photo shopped so well that Anna Wintour's staff seeks their publishers as future art directors at Vogue. Worst of all I'm made aware that my photos don't receive #15likes, #10likes, or even #5likes on average. Should I even tell you about Facebook? Well...it creepily "news feed"(s) me all sorts of pontifications from friends mixed with advertisements that offer me underwear that will apparently make me look like some headless guy named Andrew Christian.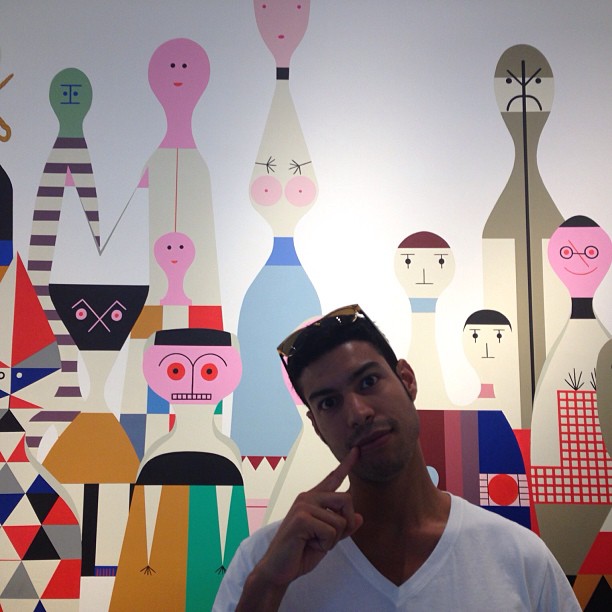 I know that what this all means is that I haven't accomplished enough. Sure, I'm employed. But then so are most of the folks I know and according to their bios they're better equipped. More generally, they're posts boast of how they're just SO HAPPY and so I wonder where my excitement is. Is my relationship stale? Did I miss the super VIP performance for influencer-only types of which I try to position myself as? And in writing this, am I outing myself, AGAIN? Only now as a poseur?
Surely I'm not alone. Elise Hu
recently wrote,
"a new University of Michigan study on college-aged adults finds that the more they used Facebook, the worse they felt. The study, published in the journal PLOS One, found Facebook use led to declines in moment-to-moment happiness and overall life satisfaction."
Ladies and gentlemen, I am that adult. While I'm no longer in college, the psychological effects are one and the same. We disclose private information and we take in private information on social media networks with various motivations ranging from maintaining personal ties to showing off. It's the consequences of each that, particularly the latter, interest me.
In Baz Luhrman's adaptation of F. Scott Fitzgerald's the "Great Gatsby," now playing on my flight, Gatsby toils to win favor with an elite audience that will help him win Daisy's heart. His reputation is insurmountable and his experiences legendary, both of which are on display for the enjoyment of others but he ultimately fails in his pursuit due, in part, to this. Similarly, modernity has provided us all with an audience and tools to toil with and help us net what we want. What happens then, when we find ourselves in constant fear that we're missing out on the good, better, best moments in life because our notions of those are predicated on someone else's INSERT PLATFORM TERM for stream?
Are we truly living for ourselves or for the benefit of the exposition, and perpetuating our audience's own #FOMO?