One thing they never explained about getting around in Austin during SXSW is that reserving a cab isn't possible, but not to worry because after a slow start to the day I was able to make it to a few panels!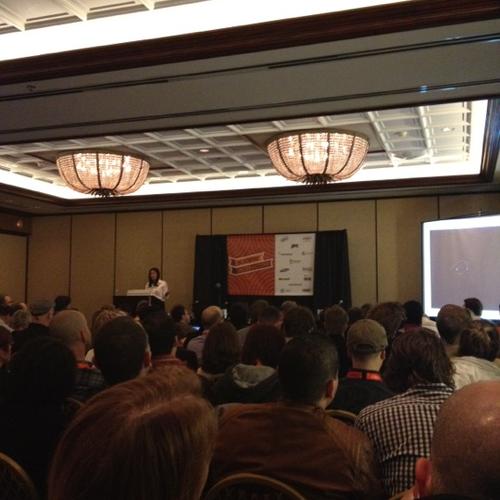 Becky Wang, SaatchiNY's Head of Insights and Analytics, presented on Big Data in front of a packed room (pictured above). This is a topic I discussed yesterday as a SXSW Festival "trend," as noted by the Council of PR Firms. During #happydata Wang leveraged existing research from the minds of Daniel Rasmus, Danah Boyd, and others, to talk about how data represents a "societal nervous system," which provides information that we are either consciously or subconsciously aware of. The analysis of that data, who utilizes it, and for which purposes, determines its usefulness.
Wang provided the basic example of Google collecting user data in order to provide a user with relevant ads and products that its algorithms determine to be in line with what the user is seeking. As Google becomes better informed about each user, the better their predictive (recommendation) ability will be over time. That's the beauty of the concept behind Big Data, its ability to be used to simplify and enhance user experience where the user did not think it would be possible. A natural extension for a given company with access to data about a users' online behavior over time would be to suggest to a user what to do based on the stored knowledge (data) of who their friends are, what each eats, buys, and so forth.
We are currently programmed to share within social media culture. Whether users are always cognizant of that or not is another matter. When I asked Wang about privacy concerns as it relates to what users share (willingly or not), and how much is available to companies, she noted that "ultimately, I believe that we need to be willing to share our data that serves the human good -- that does not include our credit card numbers. I know banks have already developed alogrithms and support teams to respond to fraud -- that's not what we should be concerned with. In other words, businesses know that they need to be paying attention to the things that impact our livelihood." I agree with Wang that each user has a choice to make about the information they want to share, and I know I'm personally vigilant about such information. However, Wang brings up a good point, "... if more people choose to share about their experience, I believe we will have more experiences to suit who we are."
In order to make those relevant experiences come to life, professionals in the communications arena should be keen to listen to the conversations that users are having in relation to particular products, their needs and desires. In doing so, everything from how to participate in those conversations to where they're happening will be mapped out, allowing for intelligent strategies for each: product development, customer service and lead generation. As marketers, it's most important to understand that the marketing mix as it was defined pre-2k is not suited for the time we live in, and the immediate future.