"Most people don't talk enough about the love in their hearts." This is a line from a song played by the Dawes' band. When I heard it, I thought, "so true."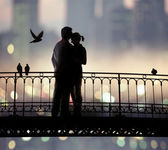 Most of us spend our waking hours disengaged from our hearts. We do this not because we're mean-spirited or even unkind. It's simply because our time management does not budget for love.
It reminded me of a eulogy I heard. A son spoke about his parents who died 12 days apart after being married for 74 years.
The son shared that once he questioned his father as to why he wasn't more expressive. He said, "Dad, I don't remember ever hearing you tell Mom you loved her."
The son said his father explained that on their wedding day he told his bride he loved her, and if anything changed he would let her know.
Apparently nothing changed.
Joking aside, the line from the Dawes' song is spot on. The man who only told his wife he loved her on their wedding day, no doubt, suffered regret on the day she died. He followed her in death, which says a great deal about the quality of their love.
Are you too caught up in the mechanics of life to say "I love you?"

To learn more about our one-minute blog, watch our inspiring video at www.gratitudereport.com.