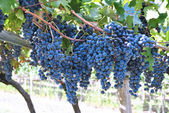 My husband and I are co-authors of the tour guide, The Explorer's Guide, Napa & Sonoma. In our guide, we give you the lowdown on Wine Country, the place that grooms grapes. Over the years, we've collected quite a few secrets.
We love knowing the insider chatter of Wine Country, because it makes exploring it an authentic adventure.
Robert Parker of The Wine Advocate gives us high marks for telling the inside story. He writes: "This marvelous book, splendidly researched, packed with terrific advice and considerable insider information, is essential reading for any visitor."
Here are a few of my favorite insider secrets:
The White House usher, the president's food and wine point person, is Daniel Shanks. Few realize that Shanks was the manager of the restaurant, Domaine Chandon, in Napa Valley. He was hired by the White House in 1995, after an extensive FBI check.
Another intriguing discovery:
The Hess Collection in Napa is a winery that doubles as an art museum. Not many know vintner Donald Hess's strategy in collecting.
On a day Hess considers buying a piece of art, if it keeps him awake that night, he decides he must have it. A sleepless night for Hess is expensive.
Now here's a secret that will fascinate the impulsive in love:
Milliken Creek Inn & Spa in Napa offers an Elopement Package. It features an on-site ceremony, complete with an officiant. All one has to do is supply the bride and groom.
There are plenty of secrets rustling around Wine Country to discover. Why not come and see for yourself?
To learn more about our one-minute blog, watch our video at www.gratitudereport.com.