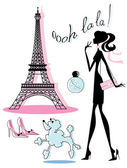 I can spot a Parisian anywhere, even if he doesn't live in the City of Light. Even if he speaks broken French with an American accent.
It's impossible to miss his joie de vivre, his joy of life, his buoyant excitement about everything from trinkets to grand adventures.
I came across such a man the other day, an American who had lived in Paris for more than a decade.He told me he was fond of Europe because of its antiquity. But when he spent time in Paris, there was something beyond ancient ruins that spoke to him.
"I could see the Parisians really knew how to live," he said, with a lingering smile, as he sipped his brandy. It was the way they relished life -- their joie de vivre -- that impressed him deeply.
As William Wallace put it: "Every man dies. Not every man really lives." Wallace was the 14th century Scottish hero, whose life was documented in the film Braveheart.
The hero's sentiment was spot on. We will all die, but who among us will really live?

To learn more about our one-minute blog, watch our inspiring video at www.gratitudereport.com.