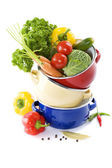 There's a network of women who feed the hungry, but they don't make a fuss about it. They aren't looking for recognition. They're far too busy doing good deeds to play up their altruism.
This group operates in the town of Sonoma in northern California. It's well known by restaurateurs who regularly give them their extras -- ingredients of all kinds -- for their concoctions.
One restaurateur told me she recently supplied these women with turkey broth, so they could make soup with it. After it was made, they connected with churches and other groups to reach those in need.
The leader of the pack said she's most proud of the fact that each year she puts 30,000 burritos on the streets of Sonoma.
I'm touched by this undercover kindness. I love the fact that there's a secret network of people involved who have no intention of telling you their role in feeding the hungry.
As the Dalai Lama says: "Be kind whenever possible. It is always possible."
To learn more about our one-minute blog, watch our inspiring video at www.gratitudereport.com.