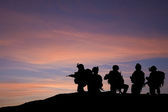 The Middle East has long been a simmering caldron. Yet the people who live there have learned to adapt to the day-to-day cruelty of war.
I'm worried about my niece Kate and her boyfriend Nil who live near Tel Aviv. Watching the news only makes me more anxious when I hear the sirens blaring and reports of civilian casualties.
The best I can do is try to understand their world, with the hope I too can adapt. But try as I may, it doesn't look promising.
I read articles, and I find myself completely at odds with their life under fire. One piece detailed a bomb shelter built beneath a shopping plaza with the capacity to hold 5,000 people. It was created to sustain a chemical attack from Syria or Iran.
Kate is studying at an international school. The director recently assured the parents that all the students have been informed where there are safe rooms and bomb shelters.
While raised in California, it didn't take Kate long to become as brave as her Israeli boyfriend. She was quick to settle into her unsettling life.
I have long marveled over Kate's great character. I have, in fact, told her for years that she is at the top of the human race. I always follow that compliment up with this quip: "How's the altitude up there at the top of the human race?"
As I think of Kate now, I'm even more impressed with her character. She has joined the ranks of the stoic in the Middle East. Kate has learned how to make peace with this brutal situation.
To learn more about our one-minute blog, watch our inspiring video at www.gratitudereport.com.