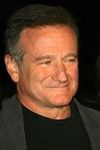 Robin Williams knew Parkinsons is a cruel disease that can steal your mind.
Robin clearly didn't want to be stolen.
A secret to many is that Parkinsons can set off a crazy-making paranoia.
I have a friend, Vera, who has Parkinsons. She has uncontrollable tremors, but her biggest challenge is wrestling with paranoia.
Vera calls the police often to report an intruder. The officers, however, never find evidence of a break in. She's also convinced people are stealing from her, but her banker can never find the missing funds.
While we're still grappling with Robin's death, one thing is certain. We cannot begin to understand his suffering or the fear of Parkinsons that played into it.
When we hear the stories of Robin's kindness, we're sad that someone with such a good heart has left us.
One story is particularly sweet: Robin chartered a plane to fly across the country so he could spend time with a 5-year old who had cancer.
Jessica Cole's dying wish was to meet Robin, because she loved his character Mrs. Doubtfire. Robin spent the day with her, playing cards and watching football. After Jessica died, Robin donated a redwood tree in her honor.
We can only hope to emulate Robin's compassion, and become more aware of the suffering people endure.
Robin's death gives us a window into this heartache.
To learn more about our 1 minute blog, watch our inspiring video at www.gratitudereport.com.