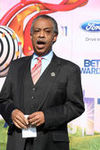 Al Sharpton went to Ferguson, Mo., to be an alchemist, to transmute rage into a call for justice.
The shooting death of 18-year-old Michael Brown has the suburb of St. Louis in a simmering boil. Reporters have been arrested amid the chaos of brick throwing, tear gas, Molotov cocktails and rubber bullets.
Championing peace in the midst of this outrage is no easy feat. It begs the question: What do we really know about this peace seeker, Al Sharpton?
The civil rights activist has an interesting resume. In addition to fighting for justice, he's a Baptist minister who prays for it.
Sharpton also hosts "PoliticsNation" on MSNBC, where his four decades as a community leader serve him in leading provocative discussions.
The peace Sharpton is seeking is definitely a work in progress, but the upside is he's unflappable. He doesn't mind critics.
"In many ways, what they consider criticism is complimenting my job," Sharpton has said. "An activist's job is to make public civil rights issues, until there can be a climate for change."
Sharpton is dogged. He says he's committed to pursuing justice long after the television cameras leave Ferguson.
Despite the tumult the town is experiencing, Sharpton continues to encourage people to opt for peace, and keep their eye on justice.
"I know you are angry," Sharpton told a group of protesters. "I know this is outrageous. When I saw that picture (of Brown lifeless on the ground), it rose up in me outrage. But we cannot be more outraged than his mom and dad. If they can hold their heads up in dignity, then we can hold our heads up in dignity."
With the images of rioting and looting we've seen, it's uplifting to have Sharpton hold the vision of peace for us all.
Albert Einstein said, "Peace cannot be kept by force. It can only be achieved by understanding."

To learn more about our 1 minute blog, watch our inspiring video at www.gratitudereport.com.