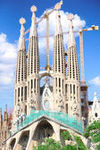 Anthony Gaudi has been coined "God's Architect" because religious images appear in many of his works. Gaudi's most notable structure is the Sagrada Família, the most-visited monument in Spain.
I plan to see this cathedral in Barcelona, and get a sense of the mastermind who envisioned it.
Adventure is my passion. I have learned that I'm happiest when I'm on my way somewhere.
There's something invigorating about learning all there is to know about a place, before you arrive to devour it with your senses. In the weeks ahead I plan to acquaint myself with cavas, tapas and flamenco, the dance that is as proud as a peacock.
I love travel because it completely reconfigures my DNA, and changes me forever. My spirit breathes in a city, a language, a culture, and refuses to exhale.
I can't wait to breathe in Gaudi's Sagrada Família. I just wonder what the proper attire should be to meet the architect of God.

To learn more about our 1 minute blog, watch our inspiring video at www.gratitudereport.com.