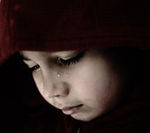 Christopher Moulton was 13-years old when he heard the siren. The teenager had no idea the wailing sound was signaling tragedy in his life.
Sadly, his father was killed in a head-on collision not far from the family's home.
"Having someone there one day, and the next day having him disappear is not only a shock, it changes your reality," Christopher told me.
His mother, grappling with her own grief, was relieved to find additional support for her family at a place called Willmar.
The non-profit organization in Sonoma, California is a rare place that helps kids deal with loss through art. There are only 20 centers like it in the country.
Christopher went to Willmar bi-weekly for four years. There he faced his grief with others dealing with loss, as well.
"I wouldn't be the person I am today without their help," he said.
At Willmar, he went on to serve as a mentor, and then became a board member. He's even given speeches on behalf of the non-profit, which gives kids, ages 3 to 18, a place to write, paint, draw and talk.
"Unfortunately in our society bereavement is completely taboo," Christopher said. "Instead of facing the issue head on, people would rather turn a blind eye. Willmar allows you to face the issue with people who understand. It gave me the strength and hope to get up every day."
Listening to Christopher's story made me realize how hard it must be to grieve as a child. One day love feels permanent, and the next, it's completely uprooted.
Luckily Christopher found a place to grieve with kids like himself, those who couldn't put their loss into words.
I wonder how many millions of kids are out there grieving on their own.

To learn more about our one-minute blog, watch our inspiring video at www.gratitudereport.com.