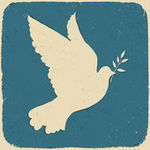 Is it possible to create a long-lasting peace in the Middle East on the heels of the 72-hour truce?
With Israeli and Palestinian delegates in Cairo, the world is watching to see whether the rage of the region can be tempered.
Can peace trump war?
History suggests it's illogical to think this corner of the world could ever sustain peace. There have been countless attempts to quell the bloodshed, yet fighting continues to erupt.
Hope, however, doesn't reason with logic. It refuses to be limited by the facts. It embraces the improbable. It believes the best of humanity will find a way to plant a seed of enduring peace.
At our core, human beings are more alike than different. It's even apparent in language. One example: The word peace is "shalom" in Hebrew, and "salaam" in Arabic. With this in mind, peace is just three letters off.
As J.R.R. Tolkien put it, "The world is indeed full of peril, and in it there are many dark places; but still there is much that is fair, and though in all lands love is now mingled with grief, it grows perhaps the greater."

To learn more about our one-minute blog, watch our inspiring video at www.gratitudereport.com.