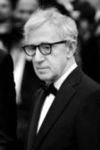 Woody Allen is promoting his film "Magic in the Moonlight," but the 78-year old director has no comment when it comes to his personal problems.
Last year accusations resurfaced by his adopted daughter, Dylan Farrow, who said he abused her when she was 7 years old.
Allen adamantly denied the allegations in a February letter to the New York Times, and refuses to say anything more.
Some wonder whether the allegations will keep movie-goers away from the box office. Others say the star power of the film will make the matter moot.
Colin Firth plays a stage magician who wants to debunk the mystical powers of Emma Stone, a spiritualist.
Even if I wanted to stay away from this film, I couldn't.
Why?
Because Woody Allen is magic. He has bewitched us with his films. This is especially true of Annie Hall, where Allen's inventive nature is pure genius.
One example is the scene where Allen, who plays Alvy Singer, and Diane Keaton, who plays Annie, have a conversation with mental subtitles. When Singer says "photography is interesting," what pops up on the screen is "I wonder what she looks like naked."
The late film critic Robert Ebert called Annie Hall "just about everyone's favorite Woody Allen movie."
Here's an interesting twist: The film won three Academy Awards, but Allen wasn't on hand to take any of the credit. He never goes to the Academy Awards, because he doesn't believe in competitive art. How refreshing.
While the allegations continue to fester, I'm opting out of the controversy. I have no comment on Woody Allen's personal life.
When it comes to his movies, I have plenty to say about this director's magic.


To learn more about our one-minute blog, watch our video at www.gratitudereport.com.