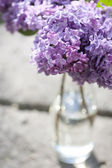 When I spoke with my friend, Barry, I initially got the feeling his beating heart had stopped. Losing his wife seemed to have kept him in a suspended state of heartbreak.
It brought me back to that scene in "Under the Tuscan Sun" where the wistful widower puts flowers on his wife's grave every day.
The longing Barry feels for his late wife, Sue, is palpable. But mid-conversation I notice a shift. He refuses to complain about his loss. Instead, he chooses to be grateful, and gratitude works its magic. It buoys his spirits and mysteriously mends his heart.
Barry said he's grateful for this woman who made him a better person -- kinder and wiser. He still consults with her regularly on all matters, he added.
"There's no decision I make -- big or small -- without Sue's approval," Barry said. "I look at life differently. Not just through my eyes, but through her eyes, as well."
Sue suffered from Lou Gehrig's Disease, a fatal disorder that affects nerve cells, and ultimately leads to the complete demise of one's muscles.
"She was a gift and a blessing, all wrapped up in a wedding ring," he said.
When I talk with Barry, I feel uplifted and full of hope. Grief, as we all know, can be all-consuming, but Barry's gratitude transforms it into grace.
As American author Joyce Carol Oates puts it: "Of the (widower's) countless death-duties there is really just one that matters: on the first anniversary of his (wife's) death, the (widower) should think I kept myself alive."
To learn more about our one-minute blog, watch our inspiring video at www.gratitudereport.com.