This morning I watched Good Morning America as they chronicled three families from the time the husband's were deployed until they were reunited. Separated from their families and even missing the birth of their first-born child, this story brought tears to my eyes. With Veteran's Day, the focus is on our service men and women that unselfishly serve our country. I have a special place in my heart for all our veterans.
Separated by War
This brings me a very special love story that is near and dear to my heart. It wasn't until I discovered the long lost love letters my father wrote to my mother that was I able to piece together this very touching account of two young people separated by war.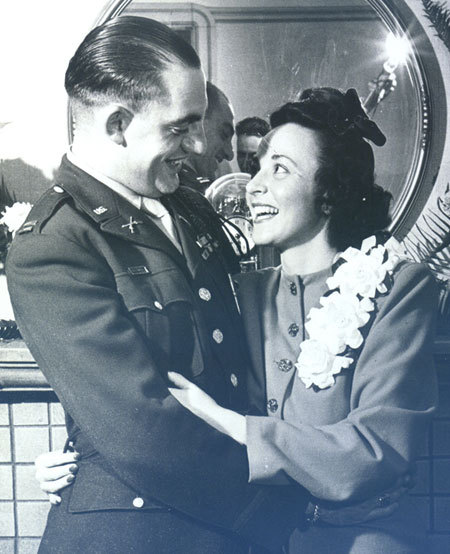 My mother volunteered to serve her country the day she graduated from nursing school. My father was ROTC at Gettysburg College and when World War II broke out, he was already an officer at Fort Devens, Mass. Where my mom did her basic training.
Do you believe in love at first sight?
Well, according to my parents, Hank and Geneva, it was! She was walking down the street in uniform and several soldiers were saluting her. She found this very amusing until she turned around and found out they were actually saluting my Dad. He had been following her for blocks hoping to catch her eye. Well this did it! She almost died from embarrassment thinking she was being saluted... or was it that this six foot two inch officer was following her? Regardless, it was love at first sight.
That night they had dinner and were inseparable for the next two weeks. Well as much as you can be while on an Army base. According to what I pieced together from his daily letters, he proposed to her prior to them being deployed. Her answer was, "YES, if and when we survive the war."
My mom was sent to the South Pacific with the Army Nurse Corps. My Dad was in the European Campaign and eventually landed on Normandy on June 6, 1944, D-Day. Both did survive the war and married on my dad's birthday October 31, 1944!
Having read all the letters, I could almost chronicle the war. The very personal letters I enclosed in my mom's coffin. There was a keepsake drawer for special items like this.
On this Veteran's Day...
I wanted to share one letter that touched me. It is almost timeless when it comes to two people being separated by a war:
July 20, 1942
Dearest Gen,
It's been so long since I've heard from you that it seems ages. It is going to take a long time for our letters to reach each other. Please can we keep in contact with each other? There will be months that elapse between our letters. I am now in England and since you are in Australia there are many things that will delay our letters.

It has been miserable for me here. I've been thinking about you constantly. I am wondering if time and distance can make a difference between us. Darling it's up to you. I know my love for you hasn't stopped one iota. I am still dreaming of the day when there will just be the two of us. I do love you so much that it seems to be unreal. For I thought it might be out of sight out of mind, but no, we have too many good times or rather memorable times to look back and reminisce. It makes me feel sure that you are the only one I love deeply and truly.

Please my sweet, write often and tell me you haven't forgotten that you love me and are going to be my little misses when this mess is over.

All my love,
Hank
Reassurance of Love
In many of the letters my dad needed to be reassured that my mom still wanted to marry him when the war was over; that she didn't change her mind. I found a series of frantic cablegrams that my dad sent after D-Day. Apparently he could not find my mom anywhere. He had not heard from her and was ready to fly over to the Philippines where she was last stationed. It turned out to be a glitch in my mom's "Army paperwork." My mom always said that she thought the Army forgot about her because it took so long for her to get home after the war ended.
When my mom did get home, she hitchhiked from Philadelphia to California to marry my dad. She even hitched a ride on a cargo plane. She was determined!
Facing death. Declaring love for each other on a daily basis. Plus a true belief that God meant them to be together. This bond welded them together for 67 years. I still feel their love around me. I am so grateful to have witnessed such devotion.