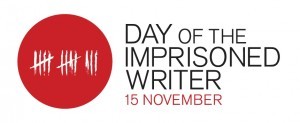 PEN established the International Day of the Imprisoned Writer on November 15, 1981 to advocate for the often faceless underground editors, translators, political essayists, and dissidents whose work on the page might never make it out of their communities, let alone their countries, without PEN's help.
Thirty-two years later, our work has changed. Mohammed Ibn Al-Dheeb Al-Ajami of Qatar is one of the new faces of the imprisoned writer. Father of four, Cairo University student, and poet, al-Ajami was struck by the events of the Arab Spring - which has yet to hit hard in U.S.-backed Qatar--and expressed his emotions lyrically in a poem: "We are all Tunisians in the face of the repressive elite." Without his knowledge, the poem made its way through social media to a global audience, including the ruling regime of Qatar.
After months in solitary confinement and a secretive trial, al-Ajami received a 15-year sentence for "inciting the overthrow of the government of Qatar" and insulting the Emir. His appeal was denied in October 2013, despite a PEN visit to press for his release, and he remains isolated in Doha Central Prison.
Al-Ajami is one of nearly 200 writers in prison or detention around the world for crimes ranging from insult and libel to subversion and conspiracy. According to PEN American Center's newest interactive report The Rise of Digital Repression, almost half of all imprisoned writers today are detained because of something they said in the digital sphere--on social media, blogs, text messages and even mobile phone conversations--a twenty-fold increase over the past 13 years.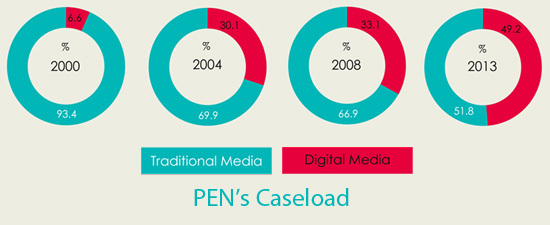 As digital technology expands, new tools have emerged that empower writers but also better enable repressive governments to target them. As of June 2013, 92 writers were in prison for their use of digital media, and another 51 on trial. The worst state culprits are found in the Middle East and East Asia, where in Vietnam alone 28 writers are imprisoned for their use of digital media, but the trend cuts across regions and cultures.
Behind every data point is a real human being. In addition to al-Ajami, PEN's report also spotlights the cases of Vietnamese blogger Ta Phong Tan, Turkish composer and pianist Fazil Say, Liberian journalist Rodney Sieh, and Tibetan blogger Kunchok Tsephel Gopey Tsang. Each case invites viewers to take action against digital repression by submitting a letter of protest to the respective government on the writer's behalf.
"These writers show us the terrifying effect of coupling technology with state power in repressive regimes," said Suzanne Nossel, executive director of PEN American Center. "Digital media enables American writers to reach global audiences, so it's vital that we address the cost to our colleagues around the world who dare to do the same."
In the digital age, we are all writers. If you share emails with family and friends, you are a writer. If you post to Facebook and Twitter, you are a writer. If you even open a webpage on your local browser, you are a publisher, according to an article in Forbes last month. This is your community now, too. Do your part to protect it.