There are certain actors we encounter as children having grown up on classic film who have a profound impact on us, and no one knows this better than author David Kaufman. In his introduction to Doris Day: The Untold Story of the Girl Next Door, he remembers first seeing Day in the Hitchcock thriller The Man Who Knew Too Much at the Colony Theater in Cleveland, Ohio. It was "the first time I can remember identifying so thoroughly with a character in a movie. If I felt like Hank [the boy who is kidnapped], it was because Jo's boundless love for her son reminded me so much of my mother's...Jo would stop at nothing to get her son back." Played flawlessly by Doris Day, Jo, a former singer and theater actress comes out of retirement and belts out the most moving version of "Que Sera, Sera" to date, saving her son in the process.
Jo's reaction when she learns of Hank's kidnapping is as close as anyone might imagine to the authentic tone of a mother's worst nightmare. So, it's both outrageous and understandable that Doris Day was not nominated for an Academy Award for her performance, as she may have been one of the most underrated artists in Hollywood, except by her legions of devoted fans. She is the number one, female box office star of all time and may have also singlehandedly saved Warner Brothers from bankruptcy through the difficult, transition in the film industry from the romantic, cinematic styles of the 1940s/1950s to the rapidly changing genres and themes of the 1960s.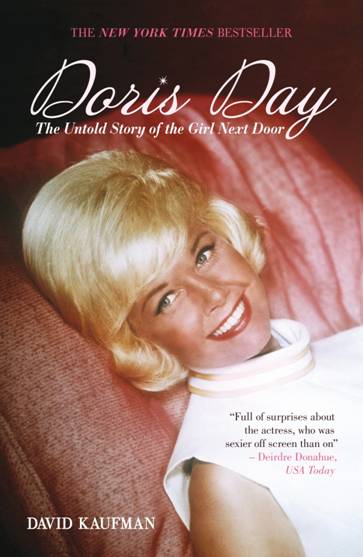 It turns out, one can judge a book by its cover. Doris Day: The Untold Story of the Girl Next Door is a Valentine to the gifted singer and actress. It also goes well beyond the star's image to reveal a complicated woman who dominated the recording and movie industries from the 1940s through the 1960s with her enormous talent.
This passionate and exquisitely researched biography is a book that you can, it turns out, judge by its cover. With the brilliant, Technicolor photograph of a stunning Doris Day in her prime on the front and shocking pink tone chosen for the back, you can't help but feel it's a Valentine from David Kaufman to "Clara" (the nickname given to Day by comedic actor Billy De Wolf, to which she answers today). Ironic and somewhat tragic is the fact that the author -- who may understand her better than anyone including her four husbands, who exploited her financially, mismanaged her career, and physically abused her -- has yet to speak with her directly.
The book, now in paperback, was written over an eight-year period by Kaufman, who is also a seasoned New York theater critic, film scholar, and author of Ridiculous: The Life and Theatrical Times of Charles Ludlam, another inspired biography (and just released in a Japanese edition) about the late Greenwich Village theater artist who, on the surface, couldn't be more different from Day.
The current book contains many psychologically sophisticated insights into Day's relationships with her son, Terry Melcher, her strong-willed mother, Alma, and co-stars, including Rock Hudson. It also reveals a keen understanding of two early, pivotal and traumatic events that shaped Day's entire life, involving "betrayals" by her father, which led to poor judgment in choosing husbands, disastrous consequences from trusting the wrong people, and extreme insecurities. Given her renowned beauty and beloved talents, many readers will be astonished to discover just how insecure she has been about both. The early childhood traumas may have also inspired her tremendous work as one of the world's leading and most famous animal rights' activists. Day has grown to trust and love animals more than people, which readers will come to understand very well after reading Kaufman's book.
The biography is also brimming with little known gems and contradictions in Doris Day's life. One recent example: while she consented to meet with fellow animal activists Paul McCartney and his late wife Linda Eastman, she stood up Oprah Winfrey, an enormous fan, and bowed out at the last minute from a luncheon date with the talk-show host when Oprah was visiting Carmel.
The interesting material about Day as a performer begins by recalling some of her most admired films and recordings, which in themselves are astonishing. Comparing some of my favorites with those of David Kaufman's may set the tone for the questions and answers that follow.
Surfing iTunes to sample some Day's songs firsthand will delight music lovers who are less familiar with her recordings. The beauty of her voice, perfect pitch, and unique interpretations rival the work of Peggy Lee, Anita O'Day, Ella Fitzgerald, June Christy, Helen Forrest, and other legendary interpreters of The Great American Song Book.
Even though Day's recordings were carefully produced, the leeway she was allowed regarding originality was not quite as mismanaged as her film work. How she might have performed these songs with greater artistic freedom -- e.g., of the kind that Peggy Lee had, who often produced, arranged, and hand-picked her own musicians--is interesting to contemplate. Despite the enormous restrictions and pressures placed upon her, Day's versions of these songs remain classics.
*PA: Like some of her films, much of this song is flawed, but her performance rings true.
DK: I also particularly love the compilation album that was made of her Christmas songs from various eras (Doris Day: Personal Christmas Collection).

Q&A with David Kaufman*
On the surface, writing a biography like Ridiculous: The Theatrical Life and Times of Charles Ludlam vs. a book on Doris Day (DD) might seem like a wildly different exercise in terms of interest, aesthetics, etc. How did you make the transition from Charles to Doris? I'm fascinated to know what it says about the depth and range of your unique taste and aesthetic sensibilities.
As a biographer, I may have made a "transition" from one subject to another. But as a cultural observer, they have both simply been a part of my life, with the emphasis for each at different times in my life. I discovered Day when I was all of six or seven years old, and in that regard, far more impressionable, than when I discovered Ludlam, two decades later. And even though I could prattle on and on about the similarities and differences between such oddly juxtaposed figures, perhaps the key to my admiration for both of them is contained in the Dedication in my Doris Day biography, where I refer "To my parents, who taught me to recognize and appreciate joie de vivre in others." You could not see Ludlam give a performance -- on or off stage for that matter -- nor watch Day on screen, without detecting the intensity of their love of life, and their almost unique ability to live in the present moment. Though it's something most of us aspire to -- or should at any rate -- to them, it clearly came naturally. Perhaps that was why I wanted to devote so much of my own life to better understanding theirs.

I might add that, as I've already told other interviewers, there is one other hidden connection between Day and Ludlam: Though they both had their intense followings (his on a much smaller scale, of course), their outsized talents were, for the most part, neglected by the mainstream. Ludlam was actually very much admired by cultural arbiters -- but his following never reached far beyond New York. Day was beloved by the whole world, but ultimately denigrated as an artist by the literati.
There is an even more important connection -- and it's one I have never discussed before: both Ludlam and Day had horrible relationships with their fathers, for whom they could do no "right." Though it may sound psychologically simplistic, I think that for each of them, the driving force was the need to get from the rest of the world the love they were denied by their respective fathers -- and which they also felt entitled to, given the boundless love they each received from their mothers.
The book cites Ginger Rogers as DD's idol. Their similarities are striking: blonde, beautiful, danced, sang, wonderful comedic and dramatic actresses with reputations as very hard workers. How did Rogers and DD get along together in Storm Warning (1951)? Did DD accept the supporting role to be able to work with her?
Yes, Doris Day has claimed that she idolized Ginger Rogers when she was an adolescent, before she even dreamed of being a movie star herself. Although to all evidence Day and Rogers got along fine while they made Storm Warning, their single picture together, Day was not entirely pleased about the assignment. Having recently made another picture in which she was a supporting player as opposed to the star (Young Man with a Horn), Day was less than thrilled about, once again, having to share a smaller part of the limelight. However, it made sense for Jack Warner to give Doris the supporting part in Storm Warning, because it was a non-singing role, and he wanted to test the waters.
Did they realize their film so closely paralleled A Streetcar Named Desire?
Since Streetcar had had such an immense impact on the culture, I can only imagine that everyone involved with the film knew that it had been inspired by that Tennessee Williams' classic. Certainly, some of the reviewers recognized the connections.
DD never had her Kitty Foyle (Rogers' Oscar-winning role). Rogers broke away from Fred Astaire for 10 years (until a final reunion in 1949 with The Barkleys of Broadway). Everyone in Hollywood thought she'd fall flat on her face, yet just the opposite occurred. Was DD denied a similar opportunity by her husband/manager Martin Melcher, who made her adhere to a "girl-next-door" image long after it had any validity?
The notion of Day's image as "the girl next door" is one of the most important aspects of her life, and therefore, of the biography. Throughout her career, Day would vacillate between saying that she never knew where that image came from and then, acknowledging it was there, saying she needed to sustain it, otherwise, she would disappoint her fans. It is also the case that once Melcher extricated his wife/client from her indentured-slave-like contract with Warner Bros., he specifically set out to alter her image, by having her play a "sexy" figure in Love Me or Leave Me. As Day herself said in interviews after that film, she had to go back to the more pure image, because she received fan mail complaining about the departure.
I wonder also if DD's arrival in Hollywood in a later era had anything to do with it -- Rogers was, after all, a contract player at RKO/MGM during Hollywood's golden years, when women stars were more revered and given more complicated roles. Do you imagine that if Day had defied Melcher and played against type that she might have been more recognized as an artist in her own right? And how do you feel that might have affected her popularity?
Years later, when Mike Nichols approached Day to play the predatory Mrs. Robinson in The Graduate, it was the prudish Melcher who turned it down. This was at the tail-end of Day's film career, and if only she had made that picture, it might have given her a whole new lease on cinematic life.
As for the question of whether or not Day might have been more successful had she taken that route, I don't think she could have been more popular or successful than she was -- except with the critics. Her artistry has been overlooked by the passage of time, especially because the last handful of films she made were pretty dreary. She herself was still wonderful in them, however. And that was a major motivation for my writing the book -- to establish her as an artist who has been underestimated.

She always rose above the material, which is extraordinary and a testimony to her artistry....Apart from Rock Hudson and James Garner (who has said that Day and Audrey Hepburn were his favorite leading ladies), with whom she is most associated, how do you understand her on-screen chemistry with Cary Grant, Jimmy Stewart, Clark Gable, James Cagney, David Niven, Jack Lemmon, and Tony Randall.
Answering this question could easily consume half the pages of my biography, since it's so huge. Suffice it to say that the chemistry with Gable, Cagney and Lemmon is quite palpable, if non-existent with Niven and Randall.

How about off-screen relationships with Louis Jordan, Frank Sinatra, Ronald Reagan, and Patrick O'Neal?
To all evidence, Doris Day slept with each of those co-stars. She actually dated Reagan, who later claimed that he came close to proposing to her. She also told several of her closest friends that Patrick O'Neal was the great love of her life. Interesting to note that her affair with O'Neal happened several years after they co-starred in Where Were You When the Lights Went Out?, Day's penultimate -- and rather negligible -- film. And even though neither Jordan nor Day ever went on record about their affair, she all but acknowledged it in her memoir, and Jordan was willing to go on record, in my book, saying that he did not like Melcher, and that he was surprised to discover that Day didn't either.
Because DD registered so strongly on-screen (which director Michael Curtiz realized upon seeing her very first screen test), I wondered how this may have affected off-camera relations with Janis Paige or Dorothy Malone? I was curious if you knew about her relationships with aunt/mother figures like Spring Byington (so charming as her mother in Please Don't Eat the Daisies), Thelma Ritter, Myrna Loy, and Ethel Barrymore.
Apart from some specific anecdotes concerning Paige, Barrymore and Ritter, I don't really know much about Day's specific relationships with female co-stars. But let me use this opportunity to say that at various times in her life, Day claimed she had no interest in socializing with other Hollywood stars or behind-the-scenes people. For her, making films was work, and whenever she could leave it behind, she did. She had no interest in Hollywood, per se, and rarely saw others' pictures. Indeed, she once claimed that she didn't even see any of her own in their entirety until Midnight Lace -- which is well beyond the mid-point of her 39 pictures in 20 years.
Any interesting information about actors with whom she didn't work but met because of her Animal Rights Activism or other common interests? I'm thinking of people like Judy Garland...
End of Part I.
Part II will appear next week.