No, the title of Norwegian filmmaker Jannicke Systad Jacobsen's debut narrative feature isn't a typo, it's really called Turn Me on Dammit! The documentary director (Scenes from a Friendship, The Clown Children) adapted the film from the novel by Olaug Nilssen and won the award for best screenplay at the Tribeca Film Festival. TMOD! concerns itself with 15-year-old Alma -- played with droll authenticity by Helene Bergsholm -- and the little explored terrain of intense sexual yearnings by a female teenager.
As fresh as it is frank, the story follows the vicissitudes of Alma's over-the-top hormones. Fantasies of romance focused on just one boy, Artur (Matias Myren), as well as raunchier versions conjured up during her vivid daydreams and calls to a phone sex service, much to the consternation of her single mother (Henriette Steenstrup), who gets stuck with the over-the-top telephone bill (6,374 kroner roughly equivalent to $1,122.00 U.S.).
Being known for a rich fantasy life becomes one of the many hazards of being in high school and living in a small town. Alma is joined in mutual boredom and disgust of Skoddeheimen by her friend Saralou (a deadpan, hilarious Malin Bjørhovde). Each and every time the name of the town appears on a road sign, you can count on the plucky girls to "flip the bird" in defiance.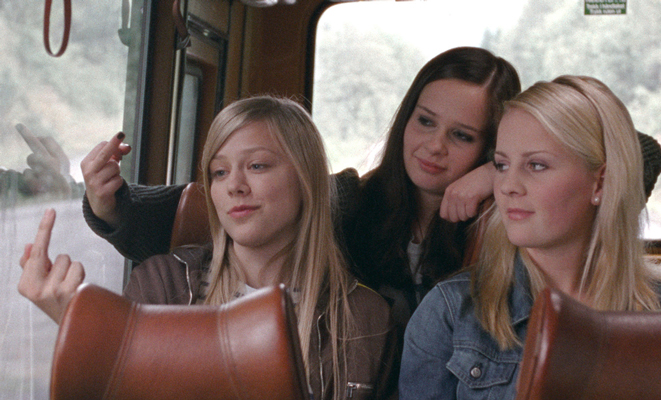 Alma (Helene Bergsholm) and Saralou (Malin Bjørhovde) "flipping the bird" as they pass a sign displaying the name of their loathsome hometown while riding on a bus with an uptight high-school friend.
New Yorker Films
Alma's frankness about sexuality eventually gets her ostracized at school, becoming more severe after a misunderstanding with Artur. Even the stalwart Saralou is forced to hang out with her on the down-low. It's fascinating to watch the innovative ways Alma pulls herself out of her jam. It was also interesting to experience how off-beat Saralou, with her quirky new beau, Kjartan (Lars Nordtveit Listau), navigates through an extremely interesting subplot, in which, among other shenanigans, she privately protests the American death penalty by writing dozens of letters to inmates on death row. Saralou and Kjartan vow to hop on a mo-ped to Texas as soon as he turns 16 to abolish the death penalty.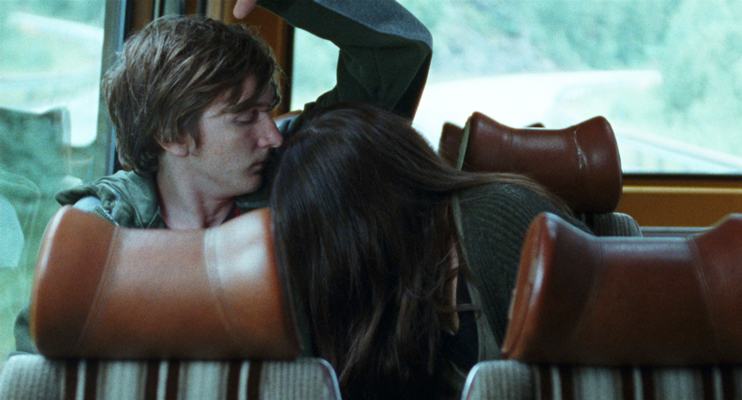 Nonconformists, Kjartan and Saralou, extoling the virtues of natural, deodorant-free living.
New Yorker Films
Jacobsen is masterful at getting well crafted, yet understated performances from all of her actors. Her film's flawless tone consistently captures the gloom of life for an imaginative, rambunctious teenage girl in a small town as well as the tormenting hegemony of what constitutes "appropriate" behavior in high school. The film's additionally charming, funny and poignant twists and turns will not be ruined by any more spoilers on the part of this reviewer.
Turn Me On, Dammit! opens on Friday, March 30th in NYC.