Boston -- As an illuminating Hanukkah gift, a trio of the city's most inventive Jewish cultural organizations is treating Bostonians to its first ever Jewish public art installation.
Eight Nights Eight Windows adds to the city's recent embrace of public art installations including a rotating series on the Rose Kennedy Greenway.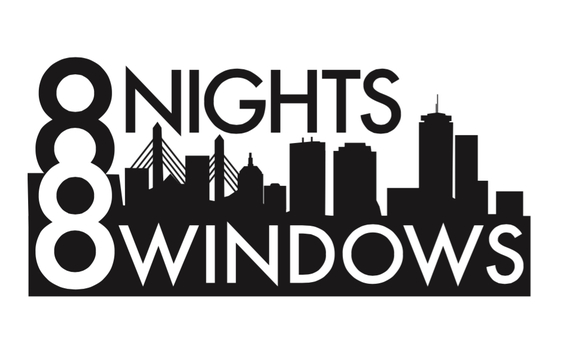 With its own hashtag, #8Nights8Windows runs from December 6 through December 14, and includes Hanukkah inspired art installations presented in storefronts, from cafes to banks to museums and community organizations.
"The heart of Hanukkah lies in placing the light of the menorah in a window for all to share," the groups say.
The project's aim is to "bring the richness of Jewish culture and the universality of Jewish values into the public eye," said Laura Mandel, newly appointed executive director of New Center for Arts and Culture, a Boston-based non-profit that presents programs that explore universal themes through a Jewish lens.
"Never before have the lights of Hanukkah shone so publicly in Boston," Mandel added.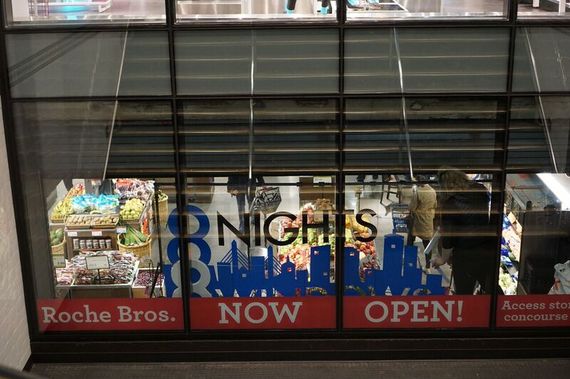 Window display at Roche Bros new market in Downtown Crossing, on the first night of Hanukkah, December 6. Photo courtesy New Center for Arts and Culture.
New Center Now, the organization's under-40 division, has partnered with the Boston Jewish Music Festival and the Boston Jewish Film Festival to create the program. The city's Jewish federation, the Combined Jewish Philanthropies of Greater Boston, is also a partner.
The eight installations were created by a juried panel of local artists; a ninth window, 8 Nights, 8 Windows Kids, features a community installation with pieces created by kids.
A series of related programs is scheduled throughout the eight-day holiday including a free celebration of music and art at the Museum of Fine Arts.
"There are many ways to make your mark on Boston's first Hanukkah public art project," she added, from cooking programs to sharing videos on #8Nights8Windows, and inserting selfies at another location.
Beyond its fun factor, 8Nights8Windows is an artistic response that reflects Hanukkah's broader themes of the power of light against the darkness of tyranny, oppression and religious persecution.
The program kicked off Sunday, December 6 with a tour of the windows, starting with HueMenorah, an interactive menorah designed and created by Fish McGill and Saul Baizman on view at Boomerangs, in Boston's South End. To become the light of this menorah, people can photograph themselves and post it to Instagram or Twitter with the hashtag #HueMenorah.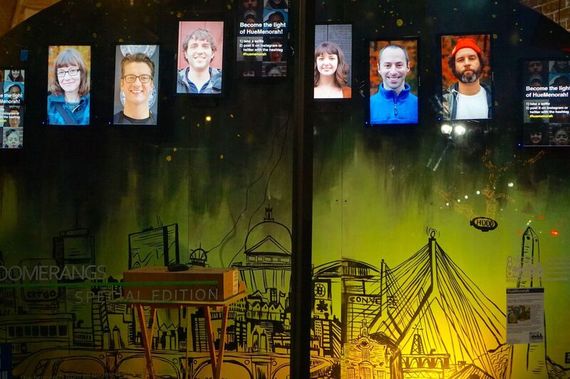 HueMenorah by Fish McGill and Saul Baizman at Boomerangs in Boston's South End. Photo Courtesy New Center for Arts and Culture.
The largest event takes place Wednesday, December 9 at the Museum of Fine Arts with welcoming remarks by new museum Executive Director Matthew Teitelbaum. Activities for all ages include menorah making, a tour of the Judaica collection and musical performances.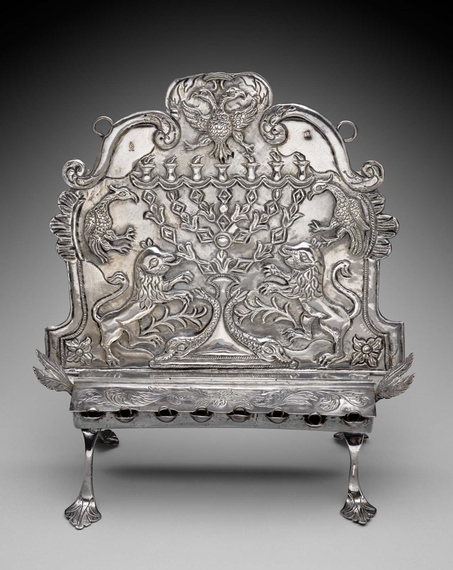 Hanukkah Lamp, Polish, 1795-1815, Charles and Lynn Schusterman Collection, MFA Boston

Last year, the MFA hosted a preview of 8 Nights, 8 Windows, drawing over 2,300 people to the museum for its first ever Hanukkah candle lighting and cultural celebration, Mandel recalled.
The program featured an Oculus Rift-controlled menorah, the MFA's first virtual reality art installation.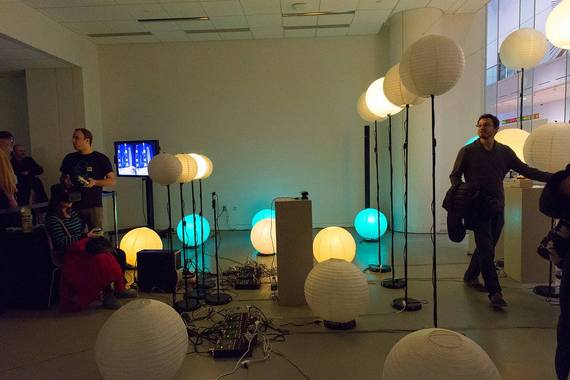 Virtual Reality with the Oculus Rift menorah, at MFA Boston, 2014, Courtesy, New Center for Arts and Culture
This year, visitors to the Hanukkah celebration will yet again be able to experience the future in a special installation, Between Lands.
Last year's collaboration also included a stunning, ethereal performance of Matti Kovler's Seekers of Light, Kovler's opera-in-progress that featured musicians from Iran, Israel and the U.S.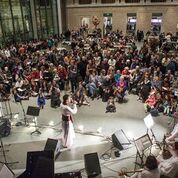 Matti Kovler's Seekers of Light at MFA Boston, 2014, Courtesy Matti Kovler
8 Nights, 8 Windows is a preview of the newly forming Jewish Arts Collaborative, a promising project of the New Center for Arts and Culture, the Boston Jewish Music Festival, and the Boston Jewish Film Festival, coming in January 2016.  
 
In addition to Boomerangs, Other sites participating are: Boston Center for the Arts, Cambridge Trust Company, Fire & Ice Grill and Bar, Pavement Coffeehouse, Roche Bros , market, United South End Settlements and The West End Museum.
For more about the project and to visit the art, go to www.8nights8windows.com.  
A Hanukkah Gift from Poland Beautifies Jewish Rituals for Israeli Soldiers
Creating light through art from a dark past emerges in a special project between Warsaw-based MIPOLIN, Taube Philanthropies and Friends of the Israel Defense Forces.
This week, 500 mezuzot will be distributed to IDF soldiers at bases across Israel. The mezozot were created by MIPOLIN, a Warsaw-based contemporary Jewish design brand.
A mezuzah is a casing that contains a small scroll of parchment inscribed with a Jewish prayer, commonly found on the doorposts of Jewish homes. They are often made from wood, metal, clay or glass in distinct designs by artists.
"When we learned through Friends of the IDF that many soldiers lacked mezuzot at their bases, we were inspired to help fill the need by sharing modern Polish Judaica with them," said Tad Taube, chairman of Taube Philanthropies." Taube is a long-time leader in supporting the resurgence of Jewish life in Poland, including schools, cultural organizations and Warsaw's POLIN Museum of the History of Polish Jews that is celebrating its one-year anniversary.
'Jewish life in Poland is alive and well, and one of the most beautiful, tangible representations of that can be seen in MI POLIN's contemporary mezuzot," Taube said.
Each MI POLIN mezuzah is unique in the way the grains of wood are crafted into works of art, according to a statement announcing the program.
Among MIPOLIN's other notable projects was the design of a yellow daffodil pin to commemorate the 70th anniversary of the Warsaw Ghetto Uprising. In a program with the POLIN Museum in 2013 and again in 2014, thousands of the pins were handed out by volunteers across the city and in cities around the world.
"As Judaica designers and producers in Poland, MI POLIN was honored to .... bring a piece of today's Jewish life in Poland to IDF soldiers," said Aleksander Prugar, CEO of MI POLIN, which he founded with Art Director Helena Czernek. "
MI POLIN designed a mezuzah that incorporates the symbol of the menorah and reflects the Jewish concept of hiddur mitzvah, which demands that ritual artifacts should also be beautiful," Prugar said.