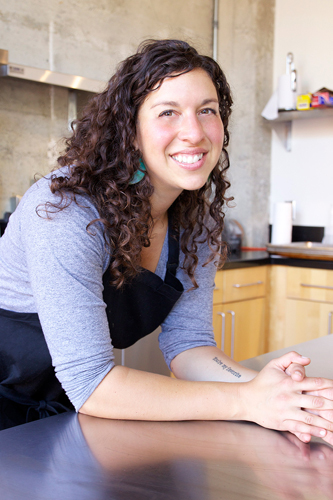 Chef Callie Waldman, Corporate Chef at BandPage, also does consulting for startups building food programs.
The recipe for a successful startup soup is as follows: throw super-bright nerds in a saucepan, sprinkle liberally with enthusiasm, and heat with as much funding as you can scrape together.
It sounds simple, but the failure rates are high. No matter how hard you stir, or how brilliant your nerds, your soup can end up tasting like cheap packet ramen. Which is why so many startups are now hiring in-house chefs.
Successful companies like Google, LinkedIn, Zynga, Palantir, Dropbox, and Airbnb all started food programs early in their lifetimes. Hiring an in-house chef hasn't always been high on a startups' list of priorities, but it was only a matter of time before smaller companies began to catch on. Bandpage, a music startup in San Francisco, hired a chef as the fifteenth full-time employee to prepare free meals for the company and guests.
For the CEO of Bandpage J. Sider, the economic calculation is simple. In the Bay Area startup scene, the average employee salary is around $100,000. Break that down to a per-hourly rate, and each employee costs $48 per hour-long paid lunch break.
"The reality of serving food in-house," says Sider, "is that people end up taking somewhere between 30-45 minutes for lunch instead of the full hour." That's a saving of up to $24 per employee every day. Projected over an entire year, the average saving is $93,600 for 15 employees. According to Sider, that's enough to pay for a chef's salary as well as food costs. And those numbers only get more compelling with scale.
Of course, it's possible to construe these programs as a sinister tactic to keep employees bound to their desks for more hours. But, sharing meals has a more complicated relationship to success than the purely economic.
For Airbnb's Chef Sam Lippman, food provides an emotional connection. No matter what you're working on or who you're working with, says Lippman, lunch-time is a shared experience, an informal chance to talk and exchange ideas. "It brings disparate teams together, allows for cross-pollination of ideas, and is one of the secrets to our success."
Click here to read the full story on Medium...
---
--
Sourcery is a startup based in San Francisco, whose mission is to help food businesses thrive. A chef can't waste valuable time hunting down ingredients. Sourcery takes care of the heavy lifting; from identifying which suppliers are able to deliver products that satisfy your needs, to optimizing your ordering workflow and managing your payments, so chefs can focus on what they do best: cooking great food.