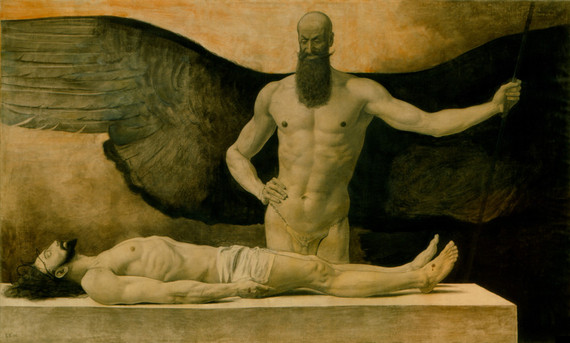 Sascha Schneider, "Triumph der Finsternis" ("Triumph of Darkness"), 1896, mixed media on canvas, from the collection of Hans-Gerd Röder (click to enlarge)
If you only see one gay art show this fall season (and I hope you'll see more than one), it's got to be the incredible, deep, mystifying exhibition at SoHo's Leslie-Lohman Museum of Gay and Lesbian Art, Nude in Public: Sascha Schneider, Homoeroticism and the Male Form Circa 1900. To begin with, this show is totally of museum quality -- exceptional, and amazing -- and the only place to see this work is at Leslie-Lohman. God knows how many other New York institutions, if they weren't so stick-up-the-butt hidebound, should have been doing two back flips and a half gainer to get it, but it's stark free for viewers and only at the small Leslie-Lohman Museum.
Schneider (1870-1927) was a German painter who spent a great deal of his life in Weimar, pretty much a backwater compared with Cologne or Berlin, and spent an even greater deal of it painting and drawing male nudes, usually from life. He was prolific, acknowledged and very successful during his period, and also, remarkably for his period, fairly openly queer. He was given a high academic post, worked out of a large, professional studio (no eighth-floor walk-up garret für Herr Schneider), lived well, and had flagrantly romantic relationships with young men. He died of complications from diabetes, sadly, and it was after his death that the scheisse really hit the fan: Between the Nazis and their loathing of anything openly sexually questionable and the bombing of German cities, only about 10 percent of Schneider's wondrous output exists today.
But what an output it was, from classical drawings of male (and occasionally female) nudes that rival High Renaissance to some of the most haunting Symbolist and extremely literary work I have ever encountered. It is for these reasons that I was knocked on the floor by this show. First, because Schneider is one of the lost masters of European Symbolism, an art movement that shook up all creativity in Europe (and even in the U.S.) and still vibrates in American pop culture today, with our obsessions with hot kid vampires, witchcraft, and the supernatural; and second, because he was one of the most literary painters of his period -- and, as you might guess, writers love literary painters, and vice versa.
And there is a lot of vice in this versa: I have a feeling that much of Schneider's lost output either was illustrating the kind of texts that appealed to his own queer heart -- including a very popular German series of youth-directed novels based on American Westerns (more about that later), as well as the usual boilerplate pictures from German history/mythology, stuff of kinky knighthood and Richard Wagner -- or was composed of pictures that came out of his own dreams and personal iconography. It is here that the idea of the "literary" painting appears. A literary painter does not simply illustrate a story; he carries the story within the structure and form of the picture itself, so that it opens up stories already inside the viewer -- in other words, your own personal and primal stories.
Schneider does this over and over in the Leslie-Lohman show. He uses some of the vocabulary of Symbolism but carries it much deeper with his own beautifully rendered homoerotic imagery. (By the way, Picasso was probably the most literary painter of the 20th century; he was crazy about writers and at one point thought about abandoning art for literature. He was constantly aware of the story within his pictures, even within images that ranged further and further from realism.)
During Schneider's period this merging of the literary and the visual was a constant; it was also radical, provocative, and (often) covertly queer. Earlier writers like Walt Whitman and Edgar Allan Poe -- both huge international forces -- and the French Symbolists, Charles Baudelaire, Stephane Mallarme, and Arthur Rimbaud, were opening up what had once only been the province of the spiritual experience to include dreams, nightmares, the more transgressive shores of heteroeroticism and profound "brotherly love." They would be joined in England by the so-called Uranian poets (led by the Socialist and queer pioneer Edward Carpenter), and later by English romantic writers like E.M. Forster, who produced a gay masterpiece Maurice that was never published during his lifetime, and D.H. Lawrence, whose work is filigreed and haunted by constant homoeroticism. I find the confluence between Lawrence and Schneider really interesting. There is a repeated element in Lawrence of homoerotic voyeurism -- he spends more time extolling the physical beauty of men than describing female attractiveness. The most erotic moment in Lady Chatterley's Lover is when Constance Chatterley comes upon Mellors, the gameskeeper, washing himself stripped to the waist near his forest lodge. In Women in Love, it is the famous fireside nude wrestling scene between blond, Nordic Gerald Crich and the darker, more sensitive Rupert Birkin; Gerald wins. The Plumed Serpent is virtually a hymn to the voluptuous bodies of Mexican men.
Lawrence, like many Englishmen, found in all things Germanic a flagrantly romantic element that countered English puritanism and provincialism. He married a German woman who was a decade older than he, and who mothered him until his death at age 45 from tuberculosis, in 1930. In this Sasha Schneider show I kept seeing repeated Lawrence motifs -- the fight between eros and death; death ripping open pathos, leading to homoerotic revelations; the nurturing innocence of youth -- even though Schneider does not actually "illustrate" any of Lawrence's stories.
The last motif is interesting. From the turn of the 20th century to the Third Reich, Germany was gripped with a crazy delight in young, naked bodies, especially male ones. Female bodies were considered too provocative and dangerous -- the old Eve temptation. Besides, the French had already cornered the female skin show. But paintings, sculptures, photos, and even films of young, nude men were everywhere. The Germans described this as the Freikörper ("free body") movement. It extolled nude sunbathing, and also hiking, gymnastics, swimming, and even running naked. Some remnant exists in Germany to this day; there is a nude area in the largest public park in Berlin, and when I lived in Germany in the late 1970s, most public parks had luftbaden, fenced-in areas for naked sunbathing, separated by gender. Although British and American prurience about naked flesh has spread through Europe, classically the Germans and other Nordic cultures saw nudity as innocence, not sexual provocation or temptation. Sasha Schneider's work really emphasizes this.
An additional note about American Westerns in Europe: During Schneider's period, the American wild West had become almost an obsession. There were traveling shows of "Indians," usually played (as they were in Hollywood) by Italian actors; cowboys in "authentic" costumes (copied from American Western silents); rodeo pageantry and fancy horsework that came from European riding academies. The Lost Girl, D.H. Lawrence's rarely read novel dating from 1920, features one such Western show that toured rural England and the hinterlands of Europe, where the fact that all the actors were either Italians or Croatians didn't register on anyone.
Nude in Public: Sascha Schneider, Homoeroticism and the Male Form Circa 1900 will continue at the Leslie-Lohman Museum of Gay and Lesbian Art until Dec. 8. The museum is located at 26 Wooster Street, in the SoHo neighborhood of New York City. Admission is free. Hours are 12 p.m. to 6 p.m. from Tuesday through Sunday. The museum is closed on Mondays and all major holidays. The museum can be reached at 212-431-2609. For more information, go to leslielohman.org.