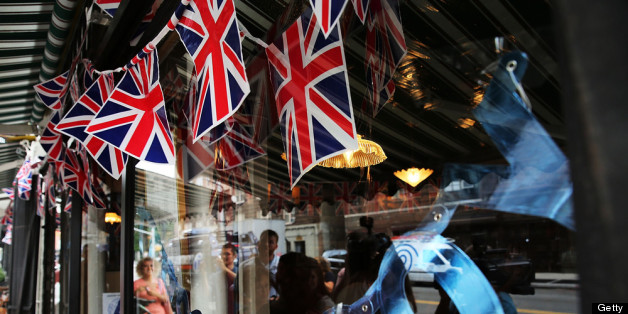 Dear William and Catherine,
I wanted to congratulate you on your upcoming new arrival and offer some sage advice from parents everywhere. You are in for incredible changes just ahead including a major lack of sleep for your servants and staff and nurses. Babies don't sleep much and they do tend to keep an entire palace awake. We'd always sooth our babies to sleep with Baby Einstein music and one of those mobiles which shines stars on the ceiling (not sure if they work on 30 foot, gold leafed ceilings, with custom crown molding). I don't know if you are registered at Babies R Us or not, but William, IKEA furniture for baby comes in very handy and it is super affordable although not-so-easy to put together, just make sure to keep a ziploc bag of all the spare pieces you're left with at the end when you build something. Also, we've had extremely good luck with the Diaper Genie when it comes to keeping our castle smelling nice, the diapers come out looking like a beautiful white set of heirloom pearls if you use it right. You and Catherine can do paper, rock, and scissors to see who empties it.
Make sure the royal chef stashes a box of Cheerios when your baby starts to eat solids: kids love Cheerios, homemade mac and cheese, hot dogs, and those apple sauce squeezers, I'm sure you've seen them at your local Trader Joe's when you grocery shop. When it comes to clothes, the baby should have lots of Osh Kosh clothes, Childrens Place clothes, oh and you can both save BIG if you cash in your Gym Bucks at Gymboree every few months; just watch the expiration date because when it's passed, it's too late. As far as entertaining the kids, they love bounce houses, zoos, park playgrounds, and many places accessible via limousine or private Lear Jet, just make sure to keep a DVD player for those long road trips with the kids to avoid the royal "are we there yets." Oh, by the way, I have an extra pack-n-play if you need it (those things are gold) and it's in pretty good condition still.
But heed this advice, kids can get spoiled very easily. Did you ever see Silver Spoons? Ricky had a train and video games in his living room. Spoiled rich. He was a punk. Don't let that happen to your kids. And refuse the urge to put them on a reality TV show. Hangin' with the Royals might SOUND like a good idea, but trust me, it would be a royal boo boo to Kardashianize the Kids. Think about the long term. College is expensive nowadays. Remember to start a 529 plan for the kids so you afford school one day, and teach them the value of money, so they know about repaying all those student loans they'll have. I hope you and Catherine will be starting a Facebook page soon to update us on every single meal, step, and milestone your new baby makes. And you guys should be blogging. We look forward to it. And be sure to take lots of photos because I'm not sure there will be enough photographs and magazine covers and newspaper headlines. All kidding aside, kids grow up fast and yours will too. They will be growing up under a microscope of public adoration and scrutiny. Make sure to take some time and enjoy them out of the spotlight. How the grow up, the values they learn, and what they do with their lives all starts with YOU.
Sincerely, Dadmissions
What parenting advice would YOU give the royal couple?
Find me on Facebook at dadmissionsthebook