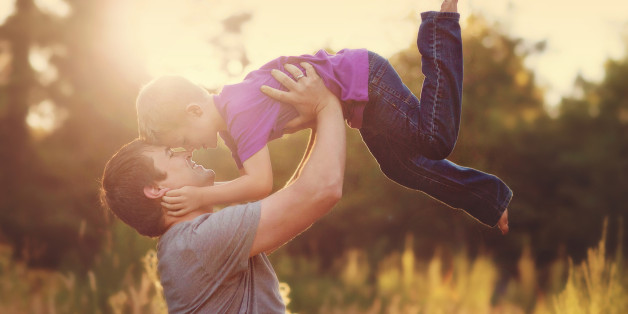 The wife and I were sitting at breakfast and we got into a spirited debate. She wondered if we're failing our children because of how much time we spend with them, and how much time we can volunteer with them and how much we can offer them. I often wonder the same things. I bet you do too. And now I know this is a direct result of PMS. Yes, a man in his 30s has learned for the first time that he, like so many others, is suffering from PMS: The Parental Measuring Stick. No doubt, men and women both get it. We both get sucked in. Here's what I know: PMS is a bitch. It can have even the most normal person raging. And it just wears you down by the end of the month dealing with it day... after day... after day.
PMS is the measuring stick by which some parents seem to get stuck in a black hole... a diabolical vortex of competition, constantly comparing "us" versus "them." You're either the person who's measuring or the person being measured. Examples: Those parents have a bigger house or they think your own house is "quaint."They go on nice tropical vacations but tell you your "staycation" is a cool idea. They volunteer all the time because they don't have to work... or they wonder why you can't volunteer more when you already work 60 hours a week. I catch myself always measuring up to other parents to see if I'm better or worse and then catch myself feeling bad about it after when often it seems like we don't measure up. PMS is a no-win cycle.
Symptoms of PMS include irritability, mood swings and food cravings. This is called stress. PMS and the constant measuring can make you want to scream at the top of your lungs and then drown your sorrows in Ben & Jerry's. Well my friends, I'm here to say once and for all that those parents who continue to measure us can take that Parental Measuring Stick and shove it up their *asterisk. I will no longer sit and compete with the other parents. I won't. I won't. I can't. Why are we doing this to ourselves. It stops now.
I thought about it... and I now present to you my own PMS checklist:
Are my kids better off than I was? Yes.
Do they have more opportunities than I did? Yes.
Do I spend more time with them than my parents did with me? Yes.
Do I love them with all my heart even when I'm not there? Yes.
Am I trying to be the best parent I can on a day-to-day basis? Yes.
My kids have a better childhood than I did, I am trying the best I can and I need to be happy with that. There's no other way around it. And now my PMS rant is over. I told you men get it too.
Find me on Facebook at dadmissionsthebook