The wife and I get to go out by ourselves hardly ever. OK, hardly ever may be an overstatement.. NEVER is more like it. Once in a while we grab a date night and book a babysitter for the kids. Recently, we came home and the kids had written out a set of new rules for the house telling us how long we can stay out, how frequently we can go out and how much it'll cost us if we don't adhere to the rules. They each signed the rules and even had Cupcake the dog co-sign with a paw print...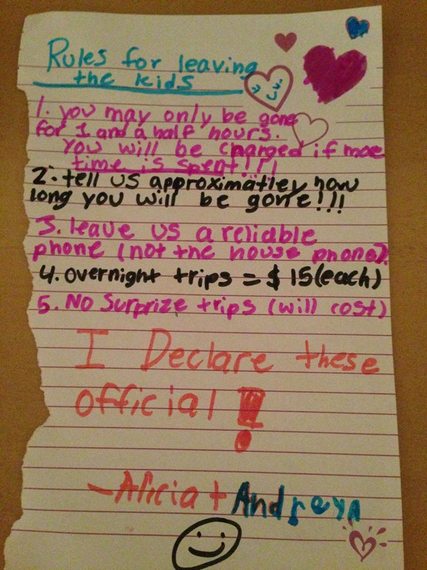 So today my wife issued a rebuttal and countered their rules with her own set of rules specifically tailored for some of the other problems we face in the house. It details how much it'll cost them for a dirty bedroom or for fighting with each other or for not listening, and specifies all that money they're forced to cough up will go to charity. The kids argued like lawyers saying her rules were invalid because she was the only signer... so I have now gladly co-signed, making it legal and binding even though we might still try to get it notarized to make it super legal. One final note to the kids: Don't mess with mama bear :)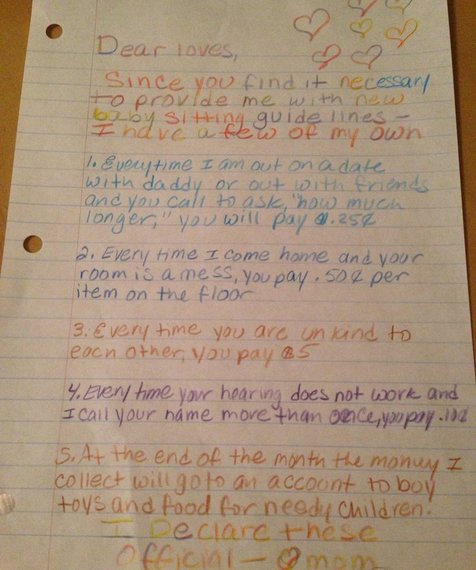 Let the games begin.
Find me on Facebook at dadmissionsthebook