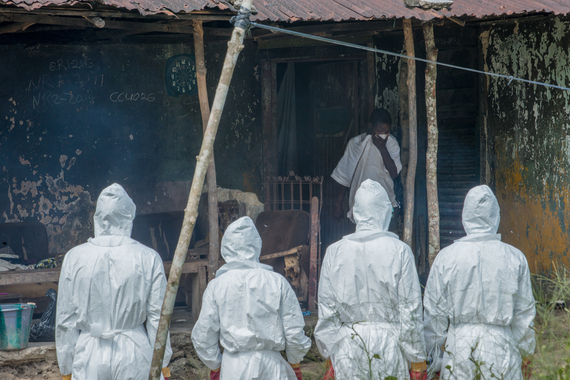 Corpses are especially infectious and special teams carry out the hazardous work of burying the bodies of suspected Ebola victims. The teams are made up of Liberian health workers run by Global Communities, one of the IRC's partner organizations in Liberia. Photo: Peter Biro / IRC

It is a strange feeling to be in the middle of an epidemic. On the surface, everything appears normal: People crowd the sidewalks; street vendors hawk their goods. Then suddenly, an ambulance, emblazoned with "Ebola Response" decals and driven by men in hazmat suits, screams through the streets, sirens blaring.

The moment you enter a public building in Monrovia, the capital of Liberia, your temperature is taken with infrared thermometers, you are instructed to wash your hands from buckets containing a mixture of chlorine and water and ordered to disinfect your shoes in the trough that sits outside every door. The floors of buildings are constantly scrubbed with bleach. The smell of disinfectant is everywhere.

In a culture where intimacy and closeness is expressed in public -- a hug, a kiss on the cheek, holding hands -- no one touches anyone anymore. Not even family members or the closest of friends. The Ebola virus is spread through bodily fluids: vomit, blood, tears, saliva, feces and sweat. Fear of contracting the disease has made any kind of personal contact off limits.

Liberia, the country hit hardest by the outbreak, has seen more than 2,000 deaths. All told, the outbreak -- the largest on record -- has killed almost 5,000 people in West Africa.

The transmission of the virus has to occur when a sick person is showing symptoms like high fever, diarrhea, aches in joint and muscles. In the current outbreak, most new cases are occurring among health workers and people who have been taking care of sick relatives or who have prepared an infected body for burial. Ebola victims are most infectious right after death -- which means that West African burial practices, where families touch the bodies, are accelerating the spread of the disease.

The epidemic has all but ground Liberia, one of the poorest nations in the world, to a halt. Markets have closed, flights cancelled, fields untended, new construction on hold. Traveling through the Liberian countryside, I see shuttered schools and abandoned health clinics. Scores of health workers have stopped working after seeing colleagues die from the disease. As a result, people suffering from other diseases, like malaria, are not getting treatment.

It takes eight hours to drive from Monrovia to Lofa County in the north of the country. This region was hard hit by the long-running civil war that devastated Liberia in the 1990s. It is also here that the Ebola first made its way to Liberia in March, from neighboring Guinea.

In the village of Barkedu, nearly 300 people have died from the disease. The survivors are scared and confused. Farmers have stopped tilling their fields and shopkeepers have shuttered their stores. The weekly market, which used to attract traders from all over the region, has closed.

Emmanuel Boyah is the International Rescue Committee's (IRC) health manager in Lofa County. His job is to train local health workers in how to use "personal protective equipment"--the space suits that have come to symbolize the Ebola crisis. He also spends a lot of time patiently answering local people's questions about the virus.

"Why is there no vaccine?" an elderly man asks at a public meeting in a bleak concrete block that serves as Barkedu's town hall.

"One is being tested," Boyeh replies. "There's nothing now. The best we can do is to prevent you from contracting the virus."

I meet Fatu Kanneh, a 35-year-old mother of five. She has lost a staggering 37 people in her extended family to the virus--including her husband and her 18-year-old son. With the major breadwinners of the family dead, she worries about the future.

"I don't know how to manage with my children," she says. "How will I feed them? How will I get them clothes?"

Nearby, in a straw and mud hut, I sit down with Mamadee Bayour--one of the few people in the village who contracted Ebola and survived.

"I treated my sick brother, but I didn't know what was wrong with him," he says. "He suddenly died and 10 days later I became sick."

IRC health workers rushed Bayour to an Ebola treatment center, two and a half hours away on a potholed track. Meanwhile, IRC-trained "contact tracers" tracked down everyone who might have been exposed to Bayour after he began showing symptoms.

"When I knew that it was Ebola, I lost all hope," the 27-year-old says. "People were dying all the time around me. I prepared to die, too."

Although Bayour is now immune to this strain of the disease, he still worries and takes every precaution possible. He has also found a new purpose in life.

"I'm now helping my community to keep safe; I tell them to clean themselves with chlorine and soap and not to touch each other," he says.

"If we take care, we will win this battle."

To find out more about the IRC's work fighting to combat the spread of the deadly Ebola virus, visit Rescue.org/Ebola.