At the start of the film Brothers Hypnotic, we see seven young black men walking leisurely along rusted train tracks carrying musical instruments -- four with trumpets, one with a trombone, one with a baritone horn, and another with a huge tuba over his shoulders. What are they doing and where are they going?

For the next 84 minutes, we travel with this incredible group of musicians -- the Hypnotic Brass Ensemble -- from the streets of New York to concert halls in Europe, interspersed with footage of their early days growing up in Chicago as the sons of legendary jazz musician, composer, and activist Phil Cohran. It is a remarkable journey. First-time documentary filmmaker Reuben Atlas captures the group's inspiring human, musical, and political evolution, viewing them as individuals as well as a "band of brothers," dedicated to each other and to their blend of jazz, hip-hop, and funk music.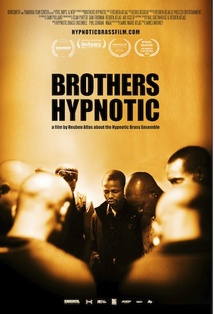 The film has already been shown at many film festivals, capturing awards along the way, but its first commercial screening will take place next week in New York City at the Maysles Documentary Center (343 Lennox Avenue at the corner of Malcolm X Boulevard) from Monday, March 24 through Sunday, March 3o at 7:30 p.m. Director Reuben Atlas and members of the Hypnotic Brass Ensemble will participate in post-film Q&As following the shows on Friday, March 28 and Saturday, March 29.
The film will also be shown on PBS's Independent Lens series next month but on different dates across the country. Check here for listings in your area.

The Hypnotic Brass Ensemble is composed of eight real brothers (one them was missing from the opening shot) who were raised in Chicago by their father and three mothers on a strict diet of jazz, funk and Black Consciousness. The film depicts their upbringing, their music, their efforts to maintain their artistic and political integrity, and their friendship and concert gigs with artists like Mos Def, Blur and Prince.

Atlas spent several years filming the brothers and their family members, clearly gaining their trust, but without compromising his own artistic independence.
You've never seen a documentary like this. Brothers Hypnotic is not a concert film -- like Woodstock and Jonathan Demme's Neil Young Journeys -- but a documentary about how eight individuals forged a collective musical enterprise in a society and industry that rewards individualism, competition, and celebrity. It is about race, politics, music, and family. It is both cerebral and celebratory. It doesn't hammer the audience with a big-M message except that art and life are complicated and full of surprises.

Their father, trumpeter Phil Cohran, played with Earth, Wind & Fire, Sun Ra, and many other musical giants. From his home base in Chicago, Cohran was also an important figure in the black consciousness movement, organizing concerts and political rallies that triggered surveillance and repression from the Chicago police department and the FBI, which Atlas reveals through interviews and archival footage, including a clip of Stokely Carmichael speaking at a Cohran-organized event. In the 1960s, Cohran was instrumental in founding the Association for the Advancement of Creative Musicians, an important influence in jazz's complex mosaic. But throughout his zig-zag career, and with the support of his three musically-gifted wives, Cohran instilled his dedication to politics and music in his children, now in their 20s and 30s.

The film documents but does not judge Cohran's unorthodox living arrangement with his wives and many children. Atlas uncovered old home movies of the siblings' unusual upbringing, including their daily 6 a.m. before-school practice sessions with their stern father, whose musical genius, personal discipline, and political awareness left a permanent imprint on his sons. Atlas gives their father and mothers opportunities to explain their efforts to mold the children's musical, personal, and political awareness, which could have suffocated them but instead instilled in them a powerful bond. Only the boys, however, transferred their musical genius and sibling loyalty into their collective voice as the Hypnotic Brass Ensemble. The three daughters went their own ways.

Atlas doesn't spare us the group's occasional generational rebellions and sibling rivalries, but Brothers Hypnotic is mainly about their music -- their remarkable talent, their quest for recognition, their musical differences with their father, and their ambivalence about commercial success without compromising their artistic and political integrity.

We see the band playing for tips on the New York streets, in clubs, at Lincoln Center, in the recording studio, and on a concert tour in Europe, hanging out in each other's homes, ruminating on their unusual upbringing, and creating their musical magic. Atlas captures their joy in playing with each other and with artists like Prince and Mos Def, but also shows the difficulties of molding their careers as part of a group when each member has his own life, including (for several members) wives and children. Atlas makes sure that we see them as individuals, as members of the music group, and as part of an extended family.

Regardless of your tastes in music, you can't help but love the brilliant sounds that emerge from the Hypnotic Brass Ensemble's instruments. You'll be mesmerized by the group's interactions -- full of humor, tension, and philosophical musings about family, art, and politics. Atlas helps the audience see the ensemble's place in history, including the political and musical arc that includes the ties between the various strands of the civil rights and black consciousness movements and the sounds of blues, jazz, R&B, funk, and hip-hop. Atlas never loses sight of the hard work that goes into composing and playing music, scheduling concert gigs, and negotiating with managers and record labels.

"Brothers Hypnotic will restore your faith in humanity," wrote a reviewer for CBS, "bring a tear to your eye, a heavy stomp to your right foot and, possibly, make you curse your parents for not forcing you to wake up at the crack of dawn for tuba practice."

Hopefully, too, Brothers Hypnotic will help catapult the Hypnotic Brass Ensemble, and filmmaker Reuben Atlas, into greater public awareness, so that more music- and movie-lovers can enjoy their astonishing talents.

Directed by Reuben Atlas. Produced by Reuben Atlas and Sam Pollard. Camera (color, HD), Sean Porter, Ari Issler, Dan Fridman, Reuben Atlas; editor, Keiko Deguchi. With Gabriel "Hudah" Hubert, Saiph "Cid" Graves, Tycho "LT" Cohran, Amal Baji Hubert, Jafar Baji "Yosh" Graves, Seba "Clef" Graves, Tarik "Smoove" Graves, Uttama "Rocco" Hubert, Phil Cohran, Maia, Aquilla Sadalla Graves, Mos Def, Damon Albarn, Prince, Tony Allen.

Peter Dreier teaches Politics and chairs the Urban & Environmental Policy Department at Occidental College. His most recent book is The 100 Greatest Americans of the 20th Century: A Social Justice Hall of Fame (Nation Books, 2012).