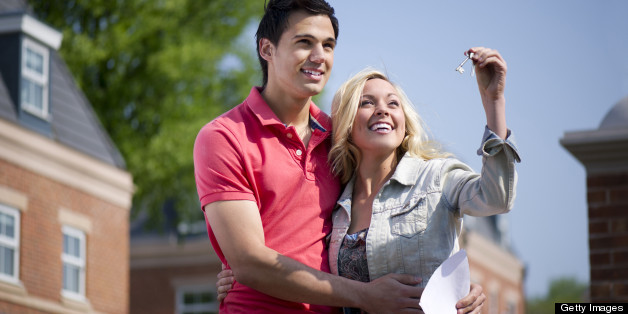 Oh no, the down payment debate is back.
The argument for the make 'em higher crowd goes like this: During the mortgage meltdown many of the worse loans required only small down payments and some financing required none, therefore the cause of the foreclosure mess was the lack of higher down payments.
There is a wisp of truth to this view: Many nontraditional loans required very little down -- if anything -- and many of those loans resulted in foreclosures. However, the so-called "affordability" loan products which flooded the market had a number of troubling characteristics such as negative amortization and massively-increasing mortgage payments.
"If our goal is to prevent foreclosures," Paul S. Willen, a senior economist and policy adviser at the Federal Reserve Bank of Boston, told the New York Times, "I can't think of anything more effective than requiring a down payment."
But, inconveniently, it turns out that loans with little down actually have attractive foreclosure levels.
Look at foreclosure rates for the fourth quarter of 2012. According to the Mortgage Bankers Association the foreclosure inventory rates for prime fixed loans was 2.10 percent, prime ARM mortgages were at 6.68 percent while FHA loans were at 3.85 percent and VA loans were at 2.08 percent.
Notice that the MBA release looks at fixed and adjustable prime mortgages but combines the results for FHA and VA loans. Obviously, if FHA and VA were divided into fixed and adjustable products we would have a better basis for comparisons. That said, it's interesting the VA loans -- including VA adjustables -- have lower foreclosure levels than prime, fixed-rate financing.
An FHA loan, of course, typically is available with 3.5 percent down while VA financing can be had with no down payment money up front.
Many of the products that were the cause of the mortgage meltdown are simply no longer with us in any great numbers. Option ARMs, interest-only mortgages and loans without documentation are rarely seen today. Without such loans we can see that foreclosure rates have tumbled significantly.
For instance, before the mortgage meltdown the foreclosure rate was typically about 0 .4 percent of all loans outstanding. Since the introduction of Wall Street reform the foreclosure rates has been about .1 percent.
Marketplace experience shows there is no need for higher down payments. Increasing the cash required from borrowers is not the key to fewer foreclosures, instead the path to fewer foreclosures is two-fold: First, have sensible, proven financial products without surprise payment increases or hidden costs. Second, carefully underwrite loan applications.
For months the real estate industry has been complaining about a shortage of homes to sell, an inventory which is too small. Raise down payment requirements and the inventory problem will vanish while home prices will fall. Why? Because there will be fewer buyers in the market looking for homes.