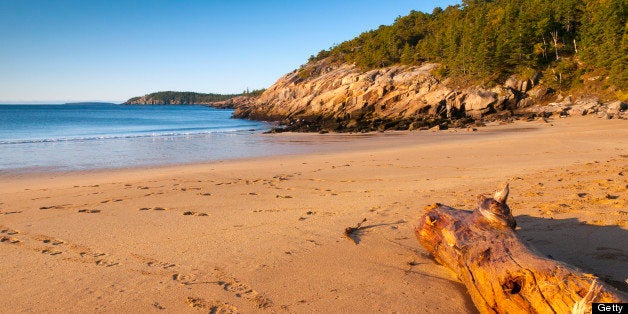 Independence Day weekend means fireworks, barbecues and beaches. It's not just about travel deals for the holiday or even at the beach. Instead, it's about the experience. All across the U.S., there are standout beaches where you'll find giant sand dunes, hidden beach inlets, wild horses, fishing, and sea glass. Here are my picks for the eight of the best beaches across the U.S.
Assateague Island National Seashore, Maryland
Wild horses trotting along the shore? The Assateague ponies are truly wild, surviving tough conditions on this barrier island, and they're incredibly beautiful to watch. It's not just beach wild-life, the shoreline is wild and natural as well--great for hiking, photography, rugged camping, and biking.
Asbury Park, New Jersey
You might be surprised to see this one...but Asbury Park has made quite a comeback since Hurricane Sandy. Dozens of business were struggling earlier this year, and the recovery was an expensive undertaking, but the Asbury Park boardwalk and the beach were the first to reopen after Hurricane Sandy and things are back in business. This is a fun and family-friendly beach experiences, with summer concerts, a mile of beachfront, and a busy boardwalk.
North
Sleeping Bear Dunes National Lakeshore, Michigan
Not all beaches are by the ocean! Next to Lake Michigan, Sleeping Bear Dunes has 35 miles of coastline and encompasses beaches, forests and sand dunes. The entire region was carved out by ancient glaciers and the dunes are actually made of glacial sand. Not really designed for sunbathing, this area is more for canoeing, swimming, hiking the 13 trails and climbing those incredible dunes (or just look at them from the observation deck).
Sand Beach, Acadia National Park, Maine
First things first...brace yourself before getting in the water -- it only reaches the high 50s on the hottest days. Still, you'll see plenty of crazy people (and lots of kids) enjoying it. Located inside Acadia National Park, this 290-yard beach is a true hidden gem. The sand is mostly made of shell fragments, crab skeletons and other shellfish. The beach is actually in an inlet between the mountains and shores of Mount Desert Island, accessible via Park Loop Road.
South
Clearwater Beach, Florida
The marketing brochures aren't lying when they talk about powdery white sand and clear Gulf waters. This is the real deal, with water that is warm all year round and sunshine most days of the year. The sand is so fine and white that it stays cool (doesn't burn your feet!). It's consistently voted the best urban beach on the Gulf of Mexico. You do have to get past the touristy trappings like the high-rise hotels and souvenir shops, but the cool thing is there are tons of activities for families. Just walking along Pier 60 is an event, with plenty of dining and activities.
Tybee Island, Georgia
There are several barrier islands in the South worth mentioning, but Tybee Island is extremely accessible from Savannah (about 20 minutes east), totally laid back and a fantastic choice for families. Only 2.7 square miles, this barrier island has that quiet beach town attitude and the beach is 100 percent public. Family-friendly activities include dolphin tours, a pirate festival, art galleries and boutiques, the historic Fort Pulaski National Monument, Tybee Island Lighthouse, water sports, and shell collecting. Fishermen come in daily to bring in fresh Georgia shrimp, or you can fish for your own catch right off the pier.
West
Polihua Beach, Lanai, Hawaii
This is where you go when you really want to get away. Not only is Lanai the most laid back of the islands, but you can go to this beach and be the only ones there. It's 1.5 miles long, located on the northwestern side of the island. This isn't for the faint of heart: the water is not safe for swimming, the winds can get strong, there are no facilities, and there's a reason it's so isolated -- getting here requires a Jeep on a bumpy road. But it's so worth it once you get there...you'll have all that golden sand to yourself and a day's worth of stunning photo ops.
Glass Beach, California
This Fort Bragg beach was actually used as a dump in Mendocino County, and was even known locally as The Dumps. That practice ended in 1967 and there were major cleanup projects in the late 1990s and early 2000. But what's amazing is that the glass from littered bottles still remains... in the form of smooth, brightly colored polished stones! It's home to one of the highest concentrations of sea glass in the world. Although you're not supposed to steal the glass stones (it's now part of a protected state park), many have, so the volume is less than it used to be, but it's still a beautiful experience.