On Wednesday, the United States Environmental Protection Agency (EPA) issued -- after many years of debate, analysis, court rulings and new science -- final rules on what constitutes "waters of the United States" that are eligible for protection under the national Clean Water Act. The new rules are designed to help
"restore and maintain the chemical, physical or biological integrity of traditional navigable waters, interstate waters and the territorial seas"
according to the EPA's announcement. The Clean Water Act is the foundational national law protecting water quality.
The new rules are long overdue -- reflecting the complicated nature of watersheds, hydrology and the politics of water. Earlier versions of these rules were long opposed and delayed (as no doubt, these will be) by political interests seeking to limit the authority of the EPA over industrial and agricultural activities that had downstream impacts on water quality. The new rules define three groups of waters: those waters covered by the Clean Water Act, those that are excluded and a middle category of waters that will still be evaluated over time on a case-by-case basis. And these rules are definitional only: the next step is for the EPA to develop and implement regulations on specific efforts to cut water pollution.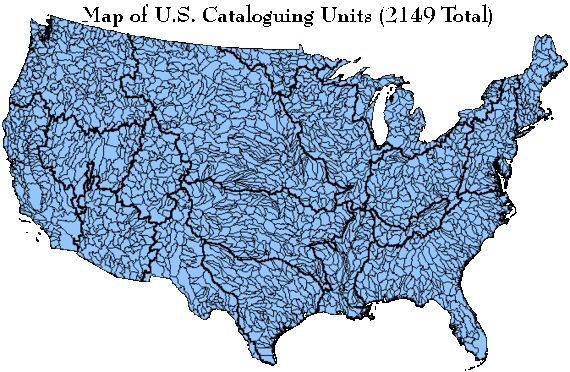 (Watersheds of the United States, US Geological Survey)
These new rules are a crucial step to clean up the waters of the U.S. They are a compromise among competing interests, but they should bring clarity to the approach the EPA must take to reign in remaining uncontrolled pollution. The rules will be especially relevant for what is called "non-point source" pollution -- those diffuse flows of pollution from agricultural lands, some kinds of urban and suburban storm flows and other practices that continue to lead to contamination of streams, rivers, lakes and ultimately the oceans around the U.S.
My opinion is that these rules will help cut pollution still flowing off agricultural and urban landscapes, when they are coupled with specific regulations and implemented. They offer the chance, finally, to reduce the risk of toxic algal blooms that recently shut down Toledo's water supply, or clean up the massive dead zones in the Gulf of Mexico. And they offer the best chance to finally tackle the massive flow of excess pesticides and fertilizers off millions of acres of agricultural lands.
There is already pushback on social media from groups and individuals opposed to any EPA actions whatsoever. Indeed, the rhetoric is coming from some who clearly haven't even read the new rules. This is sad and predictable, but every positive step forward to protect the environment has been met with this kind of ideological opposition.
In the end, the public wants clean water. Special interests want to keep using our environment as a dumping ground. Between the two are our elected officials and their representatives responsible for protecting the public interest and implementing our laws.